New Jersey Devils Free Agent Spotlight: Gabriel Landeskog
It appears the Colorado Avalanche captain Gabriel Landeskog is hitting the unrestricted free agent market. Nobody thought it would come to this, but rumors say the two sides are not close in terms of money. The thought before was he was not signing to avoid being protected in the expansion draft and would re-sign right after like other players. While this still may be the case, there is still a small chance the two sides can't agree.
If he does decide he wants more money than the Avs can give, the New Jersey Devils should 100% be in on this as it is a franchise-changing move. The Avalanche have $20-26 million in cap space depending on the LTIR status of Erik Johnson moving forward. While this sounds like more than enough, there are a ton of key pieces that need to be signed. They currently do not have a goalie and at the very least will need to sign Philip Grubauer, who had a strong short season and could easily get $4-5 million. Brandon Saad is a UFA as well and coming off a hefty $6 million deal, so even on a team-friendly one will be commanding above $4 million.
Should the New Jersey Devils target Gabriel Landeskog in free agency?
The biggest hit on the cap however will be superstar defender Cale Makar. With Miro Heiskanen signing this weekend for eight years and north of $8 million a year, Makar should be asking for the same if not more. A 22-year-old defender who puts up a point a game and has Norris Trophies in his future is someone a team has to lock up as fast as you can for as long as you can and if this means they have to spend nearly half of their available space on him then you do it.
As for Landeskog, he took a team-friendly deal like Mackinnon before the 2014-15 season, and clearly, he wants to be paid what he is worth now. For a guy who has scored 20+goals in 7 of his 8 seasons in which he has played over 50 games and that since 2014 is averaging rather close to a point a game, he deserves a raise. $5.5 million was a steal and now they should expect him to be looking for $8+ million per season.
His two-way play is outstanding and it would change the Devils if he for some reason did hit the open market and sign in New Jersey, one of the few teams who could afford him. He is a ridiculous possession player and has been throughout his career. While the Devils don't have the talent of the Avalanche yet, slotting him into the top of the lineup would push this team towards playoff contention.
In the rare event he does talk to other teams and is willing to sign the Devils should jump on it quickly and see how he feels about $8-9 million for 6-7 years. The team needs leadership, consistent scoring with high compete and to turn a corner in a big way before they are seen only as permanent bottom feeders in the league. Right now, the Devils have $31 million in cap space. If P.K. Subban is off the books either this year via expansion draft or next year when the contract is up, they are going to be closer to the cap floor than anything. Right now is a great time to go big game hunting and replacing Subban's contract with Landeskog or Hamilton would be a big deal.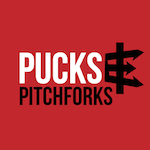 Want your voice heard? Join the Pucks And Pitchforks team!
Write for us!
The team has spoken about weaponizing the cap for a long time now so now is the time to do just that.