New Jersey Devils: Ryan Graves Growing The Game At Home In Nova Scotia
We've all heard the phrase the hockey community is a small one, right? This past week I was reminded of that once again. While recording my podcast PHFuture Considerations, our guest Allie Munroe from the Connecticut Whale (in the Premier Hockey Federation) asked if I knew New Jersey Devils defenseman Ryan Graves, who is from the same hometown as her – Yarmouth, Nova Scotia.
"He always runs this hockey camp, we're from the same town, so we've grown up around each other," the All-Star defender told me. "Ryan's a great guy." So with a Devils' home game the following night I sought out Graves so I could 1) name-drop Munroe, and 2) find out more about his hockey school that is helping to grow the game at the grassroots level in their hometown.
"Allie is awesome. I know her well, she's good peoples," Graves said with a smile when I told him we have a mutual friend. "I run this hockey school back home, we're both from a small town. I'm the only one from there to ever play in the NHL and she's the only woman to ever play professionally. When I put the hockey school together she was my first call to see if she wanted to be a part of it."
The 27-year-old Graves is currently in his fifth NHL season, and second in New Jersey after three in Colorado; he's played in 227 NHL games (20g-55a) since making his debut in 2018. Munroe, 25-years-old is entering her fourth professional season, and second in North America after two seasons in Sweden; she posted 13 points (3g-10a) in 18 games for the Whale last season and was a finalist for Defender of the Year.
"The women's game has come a long way and it's been awesome to watch it grow the way it has. It's cool to see. We had like 112 kids last year and maybe 10-12 of them are female players. At the start of the week, they all know who I am, but at the end of the week they only care about her and that's cool," Graves told Pucks & Pitchforks after the first Devils' victory of the season. "You start to see some of the young boys realize that too. That part is really cool. Allie is an awesome person and she is great for the game in our small town."
After being unable to run the camp the past two summers due to covid, this past summer he was happy to get back to work at the Ryan Graves Hockey School again. And there was no doubt he'd recruit Munroe to help out again as well.
"The kids really look up to her and it's so cool. She is able to be a little more hands-on than I am. I help with the organizing and stuff like that, and I bounce around to all of the separate groups that we break them into," he explained. "But she's able to spend a little more time one-on-one with them. By the end of the week they all really look up to her and it's really cool to see."
"These kids are 10, 12, 14; they may not even know who I am unless they are big hockey fans. They just know the NHL. They don't know who she is or what her league is at that age, it's just the reality of it. But by the end of the week, they do."
Graves recalls going to camps like his own when he was younger. They gave him great memories and perhaps an experience that led him to the path of becoming an NHL player. He also knows how expensive those camps can be for Nova Scotians when said camps aren't nearby. So not only can young boys and girls learn from two pros, but now their families won't have to travel very far to get them there.
For Munroe, she's always had to travel and move to play hockey at an elite level since she began her hockey journey. "I think being from a small town and always having to move far away for everything – I went away for school at grade 10, then college, and then Sweden. So I was always living out of a suitcase," Munroe said on the podcast when asked about signing a two-year contract for the very first time.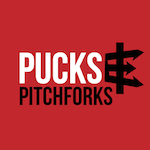 Want your voice heard? Join the Pucks And Pitchforks team!
Write for us!
"Finally to have the option to be somewhere for two years, was amazing and honestly I'm very lucky, really thankful, and happy to have that opportunity to be somewhere for two yrs. Not having to move and living out of a suitcase, to have this opportunity is special," she added. Munroe's two-year deal is worth $52,800 and includes a $10,560 signing bonus.
"We make a point at the end of the week to do Q & As, where every group has an hour slot where they can sit down and ask as many questions as they can. It's a mess, but the kids love that," Graves said with a mile-wide grin. "So Allie and I will sit up front on a panel and they can just bomb away with questions. I'll get a lot of the early questions and then once they get more comfortable they start to ask her – what trophy they play for, how many teams are in the league, where they play – things like that. It's cool."
Hopefully, a few of the boys and girls in Nova Scotia can become stars like Graves and Munroe one day in the near future. For more information on the school click here: Ryan Graves Hockey School.