New Jersey Devils Basically Giving Up On Alexander Kerfoot
New Jersey Devils fans were hopeful Harvard star Alexander Kerfoot would sign before he becomes a free agent in August. That's become an unlikely fantasy.
It's been a few weeks since Andrew Gross of The Record spoke with New Jersey Devils GM Ray Shero. Out of that interview, we learned Harvard star Alexander Kerfoot will likely take his talents to free agency.
The fifth round pick in 2012, who played four seasons at Harvard, can become an unrestricted free agent on Aug. 15 and Shero didn't shy away from hinting that's the path he believes Kerfoot will take.
Since that interview, there has been exactly zero news coming out of the Kerfoot camp. Obviously, the Devils have been extremely busy figuring out what to do with the top overall pick in the draft, as well as their other nine picks. Shero has also been taking calls on a likely returning Ilya Kovalchuk.
Coming into the offseason, both these storylines were nowhere to be seen. Back then, many Devils fans thought the Kerfoot will-he-won't-he story could demand more space on the sports section. Now, he's an afterthought.
That could be the reason Shero is so happy to just let Kerfoot become a free agent. For one, he plays center. The Devils currently have Pavel Zacha, Michael McLeod and John Quenneville who aren't old enough to drink. They also have Travis Zajac and Adam Henrique, both have multiple years left on their contracts. Then, there's the whole Nolan or Nico thing that will be resolved in a few weeks.
The Devils system isn't in dire need of a center. Kerfoot probably sees that fact. If Kerfoot doesn't make a position change, there is very little chance he becomes a top six monster that he probably becomes in another system.
College players and the Devils have equalled bad luck the past few years. The Devils looked poised to sign Jimmy Vesey last year, before he jumped across the Hudson River and signed with the New York Rangers. Gavin Bayreuther put the Devils into one of his final four teams, but chose the Dallas Stars instead. College stars just haven't picked the Devils in the end.
Kerfoot would have been a great addition to the Devils in the long run. He scored 16 goals in 36 games this season. He's been the Crimson's top-line center for three full seasons. He ended his college career with over a point per game. Kerfoot has great vision, and has the skill to start the season on an NHL club.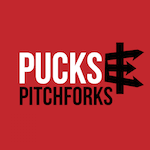 Apply to Pucks and Pitchforks.
Start your application process by filling out the fields below
That club is likely not the Devils. Even if Shero says the team will still try to sign him even after he becomes a free agent in August, Shero has no ties to Kerfoot. He was taken with a fifth-round pick by a different front office. He's been at college the entire time Shero has been with the Devils. While it's always bad to lose an asset for nothing, the Devils don't have much of a choice here.
The loss of Kerfoot won't hurt terribly. He's a very skilled player, but at a position the Devils will have a ton of potential for the future. It's okay if he signs elsewhere.