New Jersey Devils Need Tyson Barrie Trade With Colorado Avalanche
The New Jersey Devils swung for the big fish in free agency and missed on Kevin Shattenkirk. The team can regroup by trade for Colorado's Tyson Barrie.
Defense is the clear cut need for the New Jersey Devils following the major trade bringing in Marcus Johansson from the Washington Capitals. There aren't many more options on the market right now, but there's one that's been tied to the Devils.
Tyson Barrie has been in the wasteland that is the Colorado Avalanche. He's been tied to trade rumors for more than a year, and with the Avs in full rebuild mode, now is the time for them to move him.
Barrie is a workhorse for the Avs in his six years with the team. He's played over 70 games in all of the past three seasons, while showing a serious offensive prowess. Last year, he scored seven goals with 31 assists in one of his worst seasons. He's usually good for a dozen goals and close to 50 points.
Barrie would definitely be a major upgrade for the Devils, but why would the Avs choose New Jersey to move their 25 year old?
One major factor is the Devils would likely be the only team that wouldn't make the Avalanche retain salary. He's signed for three more years, at $5.5 million per season. The Devils expected to sign Shattenkirk for close to $7 million for four seasons, so this would be considered a bargain.
Rumors say the Avalanche want a young defenseman in return, but most teams would balk at that anyway. The Devils can't afford to lose Damon Severson in the deal, and shouldn't even float Steve Santini in trade talks.
Rumors say the Avs will accept young forwards in the deal, something the Devils can provide.
Right now, the Devils have Nico Hischier, Michael McLeod, John Quenneville, Pavel Zacha and Blake Speers are all 21 and under. Obviously, some of that list is absolutely untouchable.
What would Avs general manager say about move Barrie for Quenneville, a draft pick and maybe another lesser prospect?
Another player that could make some noise in a trade is Devils goalie prospect Mackenzie Blackwood. He played most of the AHL season in Albany after starter Scott Wedgewood was injured. He held his own, but clearly needs more time to truly develop. He's still better than what the Avalanche are working with. They currently have Semyon Varlamov and Jonathan Bernier to hold down the net this season, but their future netminders aren't anything to go home about.
The one name not mentioned here is the one many Devils fans mention in trade talks; Adam Henrique. A move involving the Devils 27-year-old center would definitely move the needle for Colorado, but the Devils might need to retain salary in that deal. He's signed for two more seasons at a $4 million cap hit, but $5 million and $5.5 million in actual salary.
The Devils and Avalanche have the pieces and needs to make a deal happen. Devils GM Ray Shero has the moxy to make it happen.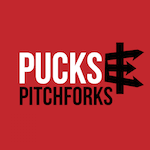 Apply to Pucks and Pitchforks.
Start your application process by filling out the fields below