New Jersey Devils: Kevin Hayes Deal Makes Us Thankful For Nico Hischier
The New Jersey Devils made the right decision when they made the first overall pick in 2017 and it shows based on a recent transaction.
The New Jersey Devils made the right decision when the selected Nico Hischier first overall at the 2017 NHL Draft. That was always clear, but it became even more clear on Tuesday night when the team that picked number two handed out a large contract to a center. The Philadelphia Flyers gave Kevin Hayes a seven-year, $50 million contract with a cap hit of 7.14.
Hayes is a great player, but that is a bit much for a player of his caliber. This isn't about Kevin Hayes though. This is about Nolan Patrick, who the Flyers took with the number two pick in the 2017 NHL Draft. It was Nico vs Nolan leading all the way up to the draft and the Devils elected to select Hischier, leaving Patrick for the Flyers.
Hischier has lived up to his selection developing into a premier two-way center. He can contribute on both sides of the puck and be a cornerstone piece on a great team. Nolan Patrick hasn't been terrible by any means, but if he was as good as Hischier has been the Flyers probably don't give Hayes such a risky contract.
They have Sean Couturier as their number one center who is awesome, but Hayes is almost certainly going to take the spot of second line center, leaving Patrick high and dry.
This is a reason to be excited if you are a New Jersey Devils fan. With Hischier already in place and Jack Hughes being an imminent addition, the Devils aren't looking to pay and centers to contracts that could get ugly. They are so content with what they have. Now the job consists of fixing the defense and adding a few more bottoms six wingers. That could be the difference between this team being good and being bad.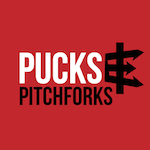 Want your voice heard? Join the Pucks And Pitchforks team!
Write for us!
It is always better to draft and develop. Good times are ahead, Devils fans!