New Jersey Devils: A Guide To What Might Happen At NHL Draft
The New Jersey Devils are officially within 24 hours of making the first-overall pick. Here is a guide to what you might see on draft day.
The New Jersey Devils are going to make the first-overall pick in the 2019 NHL Draft. Their arch rivals in the New York Rangers will be on the clock as soon as they make their selection. They will select whoever the Devils do not choose between Jack Hughes and Kaapo Kakko.
The Devils are almost certainly going to take Hughes. He has been the number one prospect in this draft for over a year and it doesn't appear that the Devils will turn away from that. Kaapo will be a blue shirt starting tomorrow night and he will no longer be someone we look at fondly. We love his game as well as Hughes, but when you play for the Rangers you are the enemy.
The other thing to be weary of is a trade. There are lots of names that have been connected to some degree to the Devils like P.K. Subban and Jesse Puljujarvi. The Devils have nine other picks in this draft over the span of two days, so they might use those to their advantage.
They could make a big trade throughout the day before anyone even arrives to the arena for the draft itself. There is a chance that this is a major day for the Devils besides making the first-overall pick.
Another thing they have in their favor is lots of cap space. They might be able to use it as bait on other teams that need to move a big contract. They might use it to acquire other good players and possibly more draft picks. The day could be busy from the minute Ray Shero wakes up to the end of the draft itself.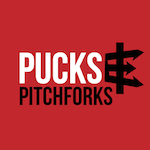 Want your voice heard? Join the Pucks And Pitchforks team!
Write for us!
It is really an exciting time for New Jersey Devils fans. They are going to pick first for the second time in three years. Decades can go by without ever drafting in this spot so enjoy it. Hopefully this is the last time the Devils draft this high for a really long time.