New Jersey Devils Should Call About Timo Meier Trade
With the San Jose Sharks recently making moves including paying Erik Karlsson $11 million per season, this puts them in a cap crunch. San Jose isn't out of the woods just yet despite dumping Justin Braun to the Philadelphia Flyers. Tonight being the NHL Draft, we should expect New Jersey Devils GM Ray Shero to make some fireworks. If the indications are that Shero drafts Jack Hughes as a top-two center, then pursuing a solid veteran winger in Timo Meier makes sense.
Timo Meier has 54 goals and 108 points with the San Jose Sharks the past three seasons. He is a very young and reliable winger. He is currently an RFA, but a trade and signing would be perfect since the Devils can control him at the right price. You'd also be bolstering your left wing slots with Taylor Hall, Meier, Jesper Bratt, and maybe Brett Seney.
Meier is a crafty puck carrier who can also find open spaces, and he has a quick wrist shot to compliment it. He is a determined forward who can dangle around goaltenders and make the smart move to score clutch goals. He knows that he can get dirty goals by evading defenders, and taking the goalies vision, and then tip in a rebound goal.
He would be an excellent complimentary winger for Nico Hischier. Having two dynamic Swiss forwards would be nice to see them speaking like they can with the Swiss National Team.
Timo's numbers can inflate in New Jersey not only because of Nico, but also whoever Ray Shero drafts first overall can be a huge variable. The Devils are going to have to give up major assets to get Meier. That would change where he would fit on the team. However, think about the lines if Meier was on the team.
Hall-Hughes/Hischier-Palmieri
Meier- Hischier/Boqvist- Kakko?/Bratt
Bratt/Boqvist- Zajac- Coleman
Wood- Zacha-Agostino/Anderson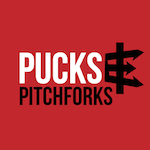 Want your voice heard? Join the Pucks And Pitchforks team!
Write for us!
That's a serious lineup right there.