New Jersey Devils: Vegas Golden Knights Would Be Great Trade Partners
The New Jersey Devils have lots of cap space and the Vegas Golden Knights need help in that department. This could be a match that makes a great trade.
The New Jersey Devils and Vegas Golden Knights would be great trade partners. This could be something that materializes on draft day or beyond. But Vegas is apparently talking to teams about possibly trading Colin Miller and even Nikita Gusev's name has come up.
Gusev is a highly regarded player from the KHL that could be the next Artemi Panarin in terms of a guy who came over from the KHL and unexpectedly became a star. He is currently an RFA but the Devils would surely be able to sign him if he so wanted. If he is willing this would be a great trade.
That is exactly the kind of player that could propel the Devils to new heights offensively. With Taylor Hall, Nico Hischier, Kyle Palmieri, and the number-one overall pick who is going to be an offensive-minded player, Gusev would be just another great addition.
He dominated in the 2019 IIHF World Championships and should make an impact in the NHL next season. It could even be a significant impact. That would be exactly what Vegas wants if he stays there, but they are in trouble with the cap.
They currently sit over the cap and need to come back before the season starts and that is also a team that has some UFAs and RFAs to sign. Miller would be a good option for the Devils to take along with Gusev because you can buy low on him right now. Miller has shown he can be a pretty good two-way defenseman but he is coming off of a below standards year. The year before he was awesome all the way to the Stanley Cup Final after Vegas took him from the Boston Bruins in the Expansion Draft.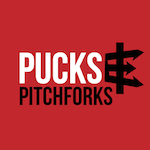 Want your voice heard? Join the Pucks And Pitchforks team!
Write for us!
If the Devils and Golden Knights could work something out that would be awesome for both teams. The Devils are looking to get better by adding roster players for next year and beyond and the Golden Knights absolutely have to shed some salary. It might not even cost them all that much due to Vegas being in that big of trouble with the cap and the Devils being so free with it right now. The Golden Knights aren't the only team the Devils should try to speak to, but this Gusev kid is the real deal and he would fit right in on the new look Devils.