New Jersey Devils: Mixed Reviews Of NHL Network's Top Prospects List
The New Jersey Devils have some high-end skill in their farm system, and NHL Network's list is a little bit off but still respectable.
The NHL Network loves to put out lists that get fans talking over the summer. This summer has been no different. Their Top-50 Prospects list came out and there are some mixed reviews from New Jersey Devils fans who look at it.
The big-name that should be no surprise for Devils fans is Jack Hughes. He came in as the number one ranked prospect and it is a good feeling to have a guy like that as a part of your organization. Hughes is a future superstar according to all of the projections and one that the Devils hope to build a championship-caliber team around.
Hughes uses his incredible skating ability and his elite vision to make others around him better. He is the type of center that every offensive winger wants to play with. He will make plays to create opportunities for others and you could see him develop into the type of guy that attracts players to want to play with him. When you think of guys like Sidney Crosby or Connor McDavid making their wingers look really good, that is what the Devils hope Hughes can do someday.
Another notable Devils player on the list is defense prospect, Ty Smith. He came in at number 17 on the list. Out of 50 prospects around the NHL, that seems to be a fair ranking for Smith. He was drafted 17th overall oddly enough in the 2018 NHL draft and has since dominated the scene for the Spokane Chiefs of the WHL. There could be some debate on whether or not he is better or worse than guys ahead or behind him, but 17th is a fair ranking for Smith.
The reason this list could be considered inaccurate by Devils fans is because of the fact that Jesper Boqvist was omitted from the list. He was the Devils second-round pick in the 2017 NHL Draft and has proven that he might be a great find and probably should have been a first-rounder. He is the Devils top offensive prospect not named Hughes and he has a really high ceiling.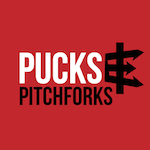 Want your voice heard? Join the Pucks And Pitchforks team!
Write for us!
The Devils are hoping that Boqvist makes this list look silly in a few years as he will try to crack the NHL as soon as this year. It is going to be fun watching all of these guys make their way in and try to be impact players. They all bring different sets of skills to the organization and could all be a part of the future. These lists are all in good fun, but sometimes there are agreements and disagreements.