Who Is To Blame For New Jersey Devils Mediocre Start
The New Jersey Devils can blame anybody with this mediocre start because no player, personnel, or management can be content with how everything's gone up until this point. When your team has so much promise on paper, it is really hard to swallow the fact the team is 5-8-4 and at the bottom of the standings.
You can put the blame on certain people all you want, but before you do that you have to look at the whole picture. Coaches and management were perfectly content with sending Ty Smith back to junior. In reality, that was their first mistake this season.
Putting themselves in a position where they were not going to have the best six defenseman on the ice hurts. The Devils cannot win with Mirco Mueller and Matt Tennyson in the lineup, let alone making them linemates on the back end. We are also learning that foot speed is so important in this league as a defenseman.
Four out of six defenseman are likely to be outskated by an average forward, let alone an elite player. For this, fans have to blame Ray Shero for not upgrading even more on the back end prior to the season. After watching the past couple games, it is hard to imagine a move not being made for an NHL proven defenseman in the near future.
Another problem is the defensive strategy, it only works when they are extremely aggressive. Now, being aggressive is not a bad thing as long as you man up defensively.One thing that is very difficult to watch is when they are stationary in the defensive zone rather than attacking the puck carrier.
The strategy that John Hynes has implemented in the defensive zone is abysmal, as the Devils are one the worst teams when it comes to clearing the puck. To clean things up defensively is asking a lot of our young forwards. Losing your man in the defensive zone is the main reason for these late goals. Something has got to give as this start could cost the team in the near future.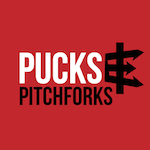 Want your voice heard? Join the Pucks And Pitchforks team!
Write for us!
The players and leaders of this New Jersey Devils team have to take it upon themselves to play smarter and better in all areas of the game. It just needs to happen sooner rather than later, because you can blame just about everyone except Mackenzie Blackwood.