New Jersey Devils: Tom Fitzgerald Expects To Be Active at Trade Deadline
On Thursday night, TSN's Darren Dreger reported on Insider Trading that the New Jersey Devils are expecting to be active around the NHL trade deadline on Feb. 24. Dreger said that regardless of Tom Fitzergald's label of interim general manager, he will be busy and "expects that there will be a ton of activity around some of his players."
Dreger first mentioned that there will be activity around the team's unrestricted free agents in Wayne Simmonds, Sami Vatanen, and captain Andy Greene. TSN's Bob McKenzie chimed in on Simmonds and mentioned that the Vancouver Canucks were interested in the veteran winger. McKenzie noted that the Canucks' interest in Simmonds may be reliant on the status of gritty winger Michael Ferland.
Ferland has been battling a concussion and another undisclosed upper-body injury for most of the season after the Canucks signed him as a free agent in July. He was cleared for action this week and got into a game during a conditioning stint with the Canuck's AHL affiliate, the Utica Comets on Friday night. Unfortunately, Ferland was removed from the game in Utica after suffering more concussion-like symptoms.
Ferland and Simmonds are similar players with their physical style. If Ferland is unable to contribute to the Canucks' push for the playoffs in a meaningful way, Simmonds would be a good fit to replace him. Based off what has been reported about Simmonds in recent weeks, Fitzgerald may be giving him the option to stay with the Devils or get a chance with a playoff-bound team like the Canucks.
It's been made public that he likes being in New Jersey and was not fond of being a rental last year when he was traded by the Philadelphia Flyers to the Nashville Predators. Simmonds is without a doubt one of the largest presences in the Devils' locker room. However, if there is a market for him, it might be best if the Devils trade him. The organization can always bring him back via free agency in July if he really enjoys being in Jersey that much.
Perhaps the most newsworthy part of Dreger's report was that there is a lot of interest in the Devils' contract players; Kyle Palmieri and Blake Coleman. The 20-goal scorers stand as two of the most valuable contracts in the league. Each has a full year left on their contracts; Palmieri at $4.65 million and Coleman at $1.8 million.
Dreger said:
"When you look at the numbers for Blake Coleman this year, I think we can all understand and appreciate why there's interest in him. He could certainly fit on all teams' top-nines and comfortably on many contending teams' top sixes."
The notion of trading two of the team's best players has caused some concern among Devils fans. The only way Fitzgerald should be comfortable trading these players is if teams are willing to make hockey deals with him. For the past two weeks, Sportsnet's Elliotte Friedman has reported that the Devils are open for business on all fronts and are open to making trades involving more than just future draft picks for rentals.
He wrote:
"I think they [the Devils] are looking for young players, maybe guys who would get more of an opportunity there than in their current situation. Players who can grow with Nico Hischier and Jack Hughes."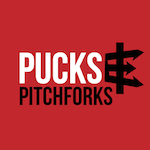 Want your voice heard? Join the Pucks And Pitchforks team!
Write for us!
This should be the only condition under which Fitzgerald entertains offers for Palmieri and/or Coleman. Hockey deals usually don't go down around the deadline, so I still believe both players are longshots to get dealt for the time being. That being said, if a can't-miss offer comes through Fitzgerald's phoneline, it may be best if the Devils give it some consideration.