New Jersey Devils: Eddie Lack's Last Great Performance Before Retirement
On Monday, former NHL goaltender Eddie Lack announced he would be retiring. It makes us remember that glorious day when he dominated against the Tampa Bay Lightning on the way to the playoffs.
Eddie Lack is a goalie who spent some time with a lot of teams over five years. He started his career on fire playing for the Vancouver Canucks. Over the first two years of his career, he had a .917 save percentage over 82 games. He was so good, the Canucks felt they could trade away franchise great Roberto Luongo. He eventually went to the New Jersey Devils when injuries and ineffective play turned him into a different goalie. Still, for at least one night, he was great.
He was in net against the top-seeded Tampa Bay Lightning. He hadn't had a win since the Devils traded Dalton Prout to the Calgary Flames to bring Lack in for goaltender depth. Keith Kinkaid had taken the reigns as the number-one goalie, Cory Schneider was dealing with injury problems, and the team needed a big win against a quality opponent.
With Lack in net, some Devils fans brought down their hopes for the February 17th contest. Lack had struggled all season, and spent most of his time in the AHL.
He faced 51 shots, and made 48 saves, a career high. The best save of the night came against Brayden Point. Taylor Hall took a shot on a one timer that was stopped by Andrei Vasilevskiy. Nikita Kucherov took it the other way, made a deke move to put Sami Vatanen out of his skates, and then threw it past a diving Nico Hischier. Eddie Lack stole it with the glove after Point hit the one timer.
The game saw Miles Wood punch Andrej Sustr so hard it broke his visor and caused his to need 15 stitches. It saw Ben Lovejoy actually score a goal. Steven Stamkos scored from his office, and Taylor Hall got an assist to extend his point streak to 17 games.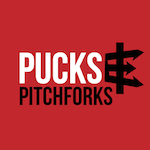 Want your voice heard? Join the Pucks And Pitchforks team!
Write for us!
Still, the headline was the stupendous play of Eddie Lack. Stopping 48 shots in just a stellar performance was a throwback to the player Lack once was. That lingering hip issue that eventually caused him to retire ended things with the Devils, and with the NHL, but for one night he was absolutely the man. This win eventually propelled the Devils to ironically play the Lightning in the playoffs, a matchup Lack watched from the sidelines. But on February 17th, he was the star one last time.