Where New Jersey Devils Could Go In NHL Free Agency
The New Jersey Devils are a team that is still trying to cap off a long rebuild. Could free agency be one of the routes they take to improve the team?
The New Jersey Devils have a lot of questions going into their offseason. We don't know exactly when that is going to start, but it will come eventually. When it does come, a common question that is asked is how active they will be once free agency comes around? They are definitely relying on the NHL Draft, but the free agency class is pretty good too. With as much cap space as they have, you would think they add at least a little something.
They might not add any of the huge free agents that will get top dollar because they probably don't see themselves as a contender right now. An old friend named Taylor Hall comes to mind. He is probably going to be the biggest fish on the free-agent market, but it is hard to see him coming back to play for the Devils.
There are also some big-time defensemen that could hit the market as well. Alex Pietrangelo and Torey Krug are both set to be unrestricted free agents as of right now. They both play a big role in their current teams which just happen to be the two teams that played in the Stanley Cup Final last year. The situation there is obviously good so don't be surprised to see them ink new deals with their current teams. However, if they did hit the market, a top-pair defenseman like that is exactly what the Devils need.
The Devils could use another goalie to compliment MacKenzie Blackwood. Braden Holtby, despite his awesome wins/loss record, wasn't that good this year for the Washington Capitals. His numbers haven't been Braden Holtby like in a little while now. The one-time Vezina Trophy winner didn't really pick a good year to have a down year. There is also Robin Lehner that will be on the open market. He had a great year split between the Chicago Blackhawks and the Vegas Golden Knights. He would be the goalie to look at if a team wanted to spend big in free agency.
Taylor Hall isn't the only good forward available. Evgenii Dadonov and Mike Hoffman are just a few examples of some good players that play wing that the Devils could look at. Most of their elite players have a pass-first mentality so adding some goal scorers would go a long way. Nico Hischier and Jack Hughes are going to need some guys who can score on their wings as they look to develop more.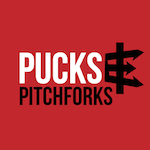 Want your voice heard? Join the Pucks And Pitchforks team!
Write for us!
It is okay to wonder how they are going to be in free agency. It is likely that they don't make too many moves and look to develop the kids but you never know. Anything to help the young players along would be the right move at the end of the day.