New Jersey Devils: Grading Fredrik Claesson's Short Tenure
The New Jersey Devils have some defensemen on their roster that we probably won't see play for them again and Fredrik Claesson is one of them.
The New Jersey Devils have some players that you know are going to be back and relied on for many years. Some were just placeholders while others develop. No offense to Fredrik Claesson, that is exactly what his role was with the organization during his short time with them. He was thrust into a less than ideal situation with the NHL club after spending the entire season in the AHL for another franchise.
The Charlotte Checkers were the team he played for before the Carlina Hurricanes traded him, a conditional pick, and Janne Kuokkanen to the Devils for Sami Vatanen. The pick and Kuokkanen were the main pillars of the deal for the Devils but they did give Claesson five games with the big club. He isn't likely to stick around with the big club but he deserves respect for how he handled himself through a situation like this.
In Claesson's five games with the New Jersey Devils, he had one goal and one assist. That isn't bad for a guy who isn't known to generate too much offense. Plus/minus is a bum stat, but he was +1 in those five games on a team that was -41 on the season. He wasn't as bad as some people might think based on the role he was given. Five games is a small sample size, but you can't blame him for his situation at this point in his career.
The fun part about Claesson's Devils' tenure is the fact that his one goal was against the New York Rangers. Nikita Gusev made a sweet play that allowed him to score which became a norm for Gusev in the second half of the season but anybody who scores in a big win over the Rangers deserves at least a little bit of love. The Devils didn't generate more even-strength offense with Claesson on the ice or anything like that but he played his role to the best of his ability.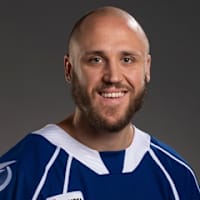 FREDRIK CLAESSON
D,
New Jersey Devils
C
You can't give Claesson anything more or less than a C. He only played in five games and was okay in those five games. He had a big goal against the rival New York Rangers that gave them the lead for good. He is an unrestricted free agent after this season so it is doubtful that he comes back to the Devils organization but you never know.
Even if the Devils do sign him, it is doubtful that he plays for them in the NHL unless there was an injury issue. Either way, Claesson's five-game tenure with the Devils wasn't great but it could have been worse. It is impossible to give him a higher grade but it wouldn't be fair to give him a lower one either. He can be remembered for being a part of a trade that could help the Devils if the draft pick or Janne Kuokkanen work out.