New Jersey Devils: Grading Another Travis Zajac Season
The New Jersey Devils know that they are always going to get consistent play from Travis Zajac, but it is time for them to reduce his role.
Over the years, great players have worn the New Jersey Devils crest. There has been team success associated with their all-time great players as they had many appearances in the Stanley Cup Final (with three wins). One of their most consistent players through their history has been Travis Zajac. He is also probably one of the most underrated Devils of all time.
In 2019-20, he is in a different spot than he was earlier in his career. He is only relied on now to be a strong man in the faceoff dot and defender. He led the Devils with a 52.84 percent in the faceoff circle. That is pretty good as an individual despite the team not being very good in that department.
He is fine in the underrated parts of the ice, but his offense has come way down in recent memory. Some people might not even remember the Zajac that was good offensively earlier in his career. Well, his 9 goals and 16 assists for 25 points aren't exactly the good numbers offensively but is about what you should expect from him at this stage of the game.
He did, however, pass Zach Parise for sole possession of fourth all-time in New Jersey Devils goals with 195. He also passed Kirk Muller for sole possession of third place all-time in Devils points with his 521st. He now sits at 532 points, only trailing John MacLean (701) and Patrik Elias (1025). It has been a nice career for Zajac despite him not being on that level anymore.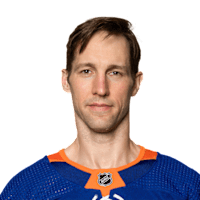 TRAVIS ZAJAC
C,
New Jersey Devils
C
The reason he doesn't get lower than a C is that he was good in the areas of the game that you can expect Zajac to excel. He won them some faceoffs and did an okay job playing against the other team's top players (along with Nico Hischier). He provided enough offense to be a decent third-line center but if they can ever have him as a fourth-liner at this point in his career it would have a chance to make the Devils a better team.
The reason he doesn't get a higher grade is that the offense has fallen way off. He was pretty good playing with Blake Coleman in 2018-19 and had 19 goals but he fell back to 9 goals in 69 games this year. They don't expect a lot of offense from him anymore but a little more than that would be nice. 2020-21 is the last year on his current deal so it will be interesting to see what happens next for a very good all-time Devil.