New Jersey Devils: Kevin Rooney Deserves A Decent Grade
The New Jersey Devils have plenty of players that were awful in 2019-20 but Kevin Roo1ney wasn't one who deserves as much hate as he gets.
The New Jersey Devils have a couple of players that can be considered scapegoats by the fanbase. Kevin Rooney is one of them. He is never going to be a guy who produces offense at a prolific level or anything like that, but in 2019-20 he played his role to the best of his ability and didn't do as bad as you would think. A lot of people hate him but for the role he played, he was an underrated player this year.
Rooney, as mentioned before, provides little to no offense. He only had four goals and five assists for 9 points in 49 games this season. He was a healthy scratch every now and then thus his relatively short game output. The fans make it seem like he's the worst player in the world, but he played fine based on his role. He is a fourth-line center and nothing more.
In that role, he was a very good defensive center for this team. His linemates were brutal at times but when Rooney is on the ice it is very hard for the opposition to score. He might be a good defensive compliment to guys like Nico Hischier and Jack Hughes once they reach their potential offensively. If they reach their ceilings offensively, Rooney would be a good fourth-line center.
The Devils had a -41 goal differential. They couldn't defend anything, yet Rooney was a +8. He doesn't provide much offense but he doesn't have to. He is one of the better defensive forwards on this team. If he could ever somehow grow his offensive numbers just a little bit, he could prove to be a very valuable bottom-line center. The other young players on the team would need to reach their offensive capabilities as well for Rooney to thrive as a defensive forward.
The reason he takes a lot of heat is that he only provides defense on a team that is bad defensively and doesn't score enough. If Rooney was a fourth-line center on a much more well-rounded team, you would see him get much less hate.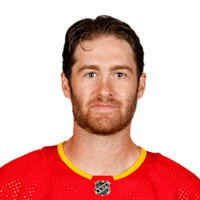 KEVIN ROONEY
C,
New Jersey Devils
C-
Kevin Rooney deserves a C- even though most of the fanbase would probably give him an F. The reason it's a C- instead of a C or C+ is because of the offense. You need to be able to provide a little bit more and he might be able to if you give him a linemate like Miles Wood full time. That has the makings of a pretty good fourth line as long as the top-nine succeed in their roles. Rooney was really good defensively in 2019-20 and might get the chance to try again next year. He is an unrestricted free agent so it will be interesting to see if it is with the Devils or someone else.