New Jersey Devils: Grading Nikita Gusev's First Season In NHL
The New Jersey Devils made a big trade to acquire KHL star Nikita Gusev ahead of the season and it looks like one that may work out for them.
The New Jersey Devils made one final big move later in the summer of 2019 when they acquired Nikita Gusev from the Vegas Golden Knights. He was an absolute stud in the NHL before coming over to the NHL but there were questions about how he would translate into the NHL. Well, he struggled mightily at first to begin his career which gave some people pause.
After struggling at first, he found his game and took off from there. From December to the pause of the season, you can argue that he was New Jersey's best player. What made Nikita Gusev a notable player was the fact that he was able to make others around him better. His goal scoring needs work as he only had 13 but he managed to gave 31 assists for 44 points in 66 games. If his goal totals can come up a little bit along with getting more assists as he continues to learn the NHL game, he should be a high volume point producer.
Gusev formed a trio with Pavel Zacha and Jesper Bratt later on in the season and it was New Jersey's best line. It was also the most entertaining line to watch. They didn't get to finish the season but it is fair to assume that they would have had a strong end to a good season for them. If Gusev is able to pick up where he left off this season next year it should be a huge boost to the Devils.
Gusev has one year left on his NHL contract so the Devils might be looking to ramp up extension talks with him as time goes on. We don't know when the window for that is going to be right now but it is sure to be an important time for him. He had a good year and it appears that he has, even more, to give in the coming years.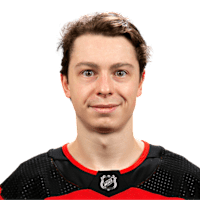 NIKITA GUSEV
LW,
New Jersey Devils
B+
Gusev deserves a high grade. He was one of the team's best players this season in a year where they didn't have very good play from everyone. He gets the B+ because not only did Gusev make himself look good when he was on, he made everyone else around him better. Jesper Bratt and Pavel Zacha would probably love it if they got word that they get another chance with Gusev whenever New Jersey Devils hockey returns.
Gusev would probably get an A if he were to have had a better start to the season. He was a mess in his own zone and looked outmatched before he figured it out. Once it clicked, it really clicked. He has a really high ceiling in future seasons if the Devils continue to use him the right way. This is a guy that we need to see get an extension ASAP.