New Jersey Devils: Grading Janne Kuokkanen's Interesting Year
The New Jersey Devils made a great trade when they sent an expiring contract for Janne Kuokkanen.
The New Jersey Devils made a good trade when they sent Sami Vatanen to the Carolina Hurricanes. He was on an expiring contract and it likely wasn't worth resigning him because of the direction that the Devils are going in. The main piece that was returned to New Jersey from Carolina was Janne Kuokkanen. Fredrik Claesson and a conditional fourth-rounder came back to New Jersey as well but Kuokkanen is the main piece.
Kuokkanen only played in one game for New Jersey. He didn't have a point but he looked like a player that might be able to be a contributor one day. If that were the case it would make this Vatanen trade really worth it. He also played in four games for the Binghamton Devils where he had three goals and three assists for six points. He joined that team as they were rolling along nicely and fit right in. He showed the skills that earned him a second-round pick by Carolina.
He only played in five games total in the New Jersey organization from the trade deadline to the end of the season, but you have to imagine that he would have had a very strong finish in Binghamton as they tried to make a push for the Calder Cup. It is not fun thinking about what that team might have done, but all we can do is look forward to what he can do when hockey comes back.
Kuokkanen projects to be a winger that can play in the top six. It would be really nice if the Devils get really good to the point where they use Kuokkanen in the middle six. Either way, at 22 years old, the sky is the limit for him. A centerman like Jack Hughes or Nico Hischier might be able to get a lot from him at some point in their careers.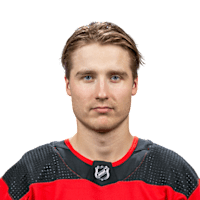 JANNE KUOKKANEN
W,
New Jersey Devils
c
You can't really give Kuokkanen much of an evaluation as far as his season in the Devils organization because he only played in five games total. In his four that he played in Binghamton, he was awesome. In the one game with the NHL, he didn't do much but he showed that he belongs in the NHL. It is just a matter of when they decide to keep him up at the NHL level. You have to figure that there will be a time where he comes up and proves that he won't be back down for a very long time.
In terms of the closer future, Kuokkanen will be given a chance to make the team out of camp for sure so his role in 2020-21 remains unknown. It would be awesome to see him break out in the NHL and help the Devils be a good team for a long time.