New Jersey Devils: P.K. Subban Kills It On Video Game Commentary
P.K. Subban took off the New Jersey Devils sweater to put on a suit for video game play by play.
During quarantine, and the ensuing seven more months without New Jersey Devils hockey, defenseman P.K. Subban is making sure he stays busy. He's been the host of the NHL's game show "Hat Trick Trivia". He's been running a killer social media profile. There's the massive wedding he's planning with future wife and Olympic legend Lindsey Vonn. On Friday, he added video game play-by-play announcer to the list.
Subban called the matchup against his former teammates Roman Josi and Anthony Bitetto. Josi came in looking like Johnny Bananas from MTV's The Challenge, and Bitetto came in with a plethora of experience.
During warmups, there was some fun back and forth. Josi threw a jab at Bitetto for practicing for this matchup and claimed he was "mentally weak". Shots fired indeed.
Right before ice action, Subban tried to do his best Doc Emrick going over the stats but somehow said that the Winnipeg Jets (Bitetto's new team) had five ties. C'mon P.K., the NHL literally never had ties in your entire career. Overtime losses were what you were looking for there.
Anyway, in the first intermission Devils mascot NJ Devil made an appearance and clearly showing whoever produced this had a sense of humor, he immediately threw a T-Shirt into the glass, breaking it. Way to go NJ.
In the second period, Filip Foresberg breaks a scoreless tie, and Subban goes nuts. Great call even though he claimed it was Viktor Arvidsson at first. Subban has to get up on his facts if he's going to do this job.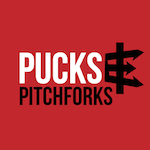 Want your voice heard? Join the Pucks And Pitchforks team!
Write for us!
It was a fun mix of insults and true play by play. It would be interesting to see him call a real-life game, but for now it was the content we need to hold us over. To see the full game, we've put the full video down below to fill some time on your weekend.