New Jersey Devils Get Number 7 Pick In NHL Draft
The New Jersey Devils didn't win the NHL Draft Lottery this time.
The New Jersey Devils were up for the number-one overall pick in the NHL Draft on Friday night and the rights to draft winger Alexis Lafreniere. Unfortunately, they actually fell in the draft, and will now go into the draft with the seventh overall pick.
The team that did get the number-one overall pick has yet to be determined. A team that loses in the play-in round will participate in a second lottery, and they will be given the rights to Alexis Lafreniere.
This is still very important to the New Jersey Devils, as they hold the rights to two picks held by teams that are in that play-in round. They traded Taylor Hall to get the rights to the Arizona Coyotes' top pick this year. If the Coyotes win that second NHL Draft Lottery, then the Devils would lose that pick this season and would get an unprotected pick in 2021. The Vancouver Canucks pick transfers to a 2021 pick if they lose in the qualifying round.
Basically, this means the Devils worst-case scenario can still happen, at least for the 2020 draft. If Vancouver loses in the play-in round and Arizona loses and gets the first-overall pick, the Devils will get the one single pick at number seven. If Taylor Hall really is magic, the Devils are in trouble.
There are a lot of players the Devils could see fall to them at seven, and they're likely to get an insanely skilled player in that slot. Alexander Holtz would be a really nice pick if he falls there. Jamie Drysdale is the top-rated defenseman, and he would be really good in red and black. Marco Rossi is a player we liked at six, and he could fall one more pick to seven depending on where teams are leaning. Cole Perfetti and Anton Lundell are two other players that wouldn't take long to make it to the NHL.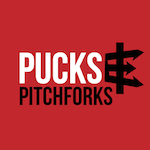 Want your voice heard? Join the Pucks And Pitchforks team!
Write for us!
Please, just don't take Jake Sanderson. And don't let the New York Rangers get the number-one overall pick. Do we have to root for the Rangers in the playoffs until they win their first round? Ugh, we just might.