New Jersey Devils: Best Players Available at 7th Overall In NHL Draft
On Friday night, the New Jersey Devils receive the 7th overall pick in the 2020 NHL Lottery Draft. Frankly, Devils fans should feel pleased about this pick. This draft is way deeper than last year's draft. It may not be the no.1 pick like Jack Hughes, but these players could fill in the team's problems.
Issues like scoring and defense are what the Devils need to fix. Thankfully, there are players in the draft that can fill those needs. Who are those players, you may wonder?
Alexander Holtz
First, we have Alexander Holtz. Holtz is an RW from the SHL who plays on the Djurgårdens IF. Draft scouts see Holtz as a sniper who has excellent quickness along with strong skating. Scouts also see Holtz as a skater who can get a shot from anywhere on the ice. While has stats in 2019 aren't as good, it's because he moved up to a men's league. His stats in 2018-19 are much better. He scored 30 goals and had 17 assists 2018-19 with his SuperElit team. But where could he help on the Devils?
Having another RW adds more help for the other forwards on the team. Having weapons like him can help Jack Hughes and Nico Hischier grow more reliable as forwards. What's even more convenient is that the New Jersey Devils don't have enough RWs. The only problem is that if we do draft Holtz, he may end up going back for one more season at Djurgårdens IF. Once he does come up to the NHL, the wait will be worth it.
Lucas Raymond
Holtz isn't the only winger the Devils should consider. Lucas Raymond also plays in the SHL, except he played with Frölunda HC. Just like Holtz, Raymond's stats were not great this season after moving up to a men's league, but he also had a great year in 2018-19. Raymond had a 48-point season with 13 goals and 35 assists. Is there anything different about Raymond? Well, more draft scouts and fans consider him to be 2nd best winger in the draft. Raymond is known for his impressive hands and speed skills.
He does play both left-wing and right-wing, which would be a great asset for the Devils. Raymond has an actual dynamic with Jesper Bratt because they both played in Sweden. A lot of people are comparing Raymond to Mitch Marner. The Devils have a choice of RW that gives Nikita Gusev and Kyle Palmieri more help since they have been taking care of the heavy lifting in the goal-scoring department. But like Holtz, he has to play another season overseas before joining the NHL.
Jake Sanderson
For the Devils, the defense is the one position that needs fixing the most. One of the defensemen the Devils can get is Jake Sanderson. Sanderson is actually from USNTDP Juniors. Do you know why that sounds familiar? That's where Jack Hughes played before he got drafted by the Devils back in last year's draft. So there may be some chemistry between Hughes and Sanderson if the Devils do select him.
Sanderson's skills include smooth-skating, along with a nice shot, and having excellent passing skills. Sanderson is also good at using his speed to rough his opponents up. That could be a significant usage to fix the Devils defense. If you think the Devils will draft him, there are some complications. Sanderson is 17 years old and committed to the University of North Dakota. So it will be a while before he plays with the Devils. But it the end, playing college hockey will gladly improve his skills.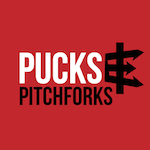 Want your voice heard? Join the Pucks And Pitchforks team!
Write for us!
Conclusion
Fans should feel delighted that the New Jersey Devils are in this position. This draft can solve many issues that Devils teams in the past few years have been having. There are many different options for the 7th overall pick. I believe every fan should consider these players. We can hope that whatever player we get will enjoy playing here and creating memories for fans.