New Jersey Devils: Could Tim Stutzle Fall In 2020 NHL Draft?
A bad day for Tim Stutzle would be a good thing for New Jersey Devils.
When draft analysts discuss the prospects at the top of the 2020 NHL Draft, there's no argument about who's going number-one overall. Alexis Lafrenière is the top player in this draft, and it's honestly not close. There's no argument to be made despite this being one of the most skilled draft classes in a while. That's why the New Jersey Devils are in good shape with the number seven pick.
There is an argument over who is going to go number two, and it's really down to two players. Quinton Byfield has been the man in that spot for much of the season, but a certain German teenager has inserted his name into the conversation. Tim Stützle now has as many people picking him to go to the Los Angeles Kings as anyone.
With not much information to go off of now, teams are hanging on just about everything. That's why the reports out of Germany did not look good for Stutzle on Tuesday.
Not the best marks for Stützle, who's looking to show he can carry a team on his own. The NHL Draft is still three months away, so there is a lot of time to change opinions, but the way the draft set up is interesting. The Ottawa Senators have two picks in the top five, so if they feel like Stutzle is overrated and needs time to become an NHL prospect, they could let them fall past both of their picks. We don't see a situation where the Detroit Red Wings would let him fall past four, that is unless Jamie Drysdale is their pick or if they fall in love with another forward during their scouting process.
This seems like two very possible scenarios. That would mean all that's standing in the way of Stützle to the Devils are the Anaheim Ducks. It would be hard convincing the Ducks not to take a possible generational forward like Stützle. However, there's a prevailing thought they might be all in on Cole Perfetti.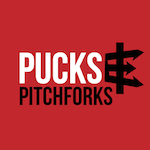 Want your voice heard? Join the Pucks And Pitchforks team!
Write for us!
It's a long shot, but it's something worth exploring. If the Devils magically end up seeing Stützle, a player that many had as the second-best player in the draft. Some very silly overreactions by teams across the league could lead to a player of Stützle's caliber falling. Do we think it would happen? Absolutely not, but it's definitely not out of the realm of possibility.