New Jersey Devils Should Avoid John Chayka Drama At All Costs
The New Jersey Devils should probably avoid former Coyotes GM John Chayka.
The New Jersey Devils have already been involved in a lot of drama over the past year or so. It didn't translate into many wins and a lot of it came as a result of being a bad team. They have a long way to go before they are good again, but they have a lot of pieces in place to build around. All of the pieces to be excited about are very young, so they just need to stay the course and everything should work itself out.
For that reason, it might be wise to stay away from the now-former general manager of the Arizona Coyotes, John Chayka. He officially left the Arizona Coyotes over the weekend after rumors swirled. It was a weird scene because they seemed to be one of the Pacific teams that were on the rise. It is weird timing because the Coyotes are going to get their play-in series going this weekend against the Nashville Predators.
Chayka made a deal with the New Jersey Devils back in December. He acquired Taylor Hall in exchange for draft picks and prospects. It was probably the biggest trade to go down for any team this season because a former Hart Trophy winner was sent away right before he becomes a free agent. Now, both he and Ray Shero are gone less than a year after putting together that trade.
The big rumor is that the reason Chayka and the Coyotes parted ways was because he was looking to work for the ownership group that owns both the New Jersey Devils and Philadelphia 76ers. It doesn't appear to be the case anymore, but in case it is the Devils should probably stay away from bringing him into the organization. They already have their coach and GM in place. They should worry more about those guys helping develop their young stars.
There are plenty of other analytical minds out there to help them in that department if they felt they wanted to go that route. Chayka would bring a lot of rumors and whatnot with him and that is probably not the best idea for this developing Devils team. The Coyotes used some strong language including the word "quit" when they announced his exit from their organization so it is probably not the kind of guy you want coming in.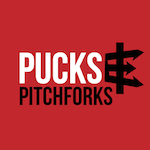 Want your voice heard? Join the Pucks And Pitchforks team!
Write for us!
For Chayka, he is probably a nice guy, and being the youngest general manager in the history of the National Hockey League is a really sweet accomplishment. With that said, he just doesn't seem like a good idea for the team at this time. You never know, maybe his future lies in another sport besides hockey.