New Jersey Devils: Options For 7th-Overall Pick In NHL Draft
It has been a rough week for the New Jersey Devils, and they aren't even playing hockey right now. First, the pick we all expected to be around tenth overall moved to the back half of the NHL Draft's 1st round thanks to the Arizona Coyotes beating the Nashville Predators. Then, worst of all, our biggest rivals the New York Rangers won the NHL Draft Lottery.
Alexis Lafreniere is a great player and will be for a long time. If we don't hit on two of our three picks it will keep us in the basement for a while with how strong the Metropolitan division is. With all this said the top picks will likely be Lafreniere, Tim Stutzle, Quinton Byfield, and Jamie Drysdale. With those players off the table, who might be available to the New Jersey Devils?
Marco Rossi
Another undersized player for the Devils? Something that could be an issue, but passing up on a guy with this kind of production and skill would be a mistake. A 120-point season with the Ottawa 67's of the OHL is massive, especially in a shortened season. To put it all in perspective as well our (well a lot of our) favorite current Devils players Nico Hischier put up 86 points in his draft year and played one more game.
While production does not always translate to the NHL, it would be real silly to let it go by just based on height. He has potential to be a star and if not at least a good winger in the top six for a decade (and he will transition to a winger over a center). His edge-work is phenomenal and his ability to slide away from players on the boards and maintain the puck will really catch your eye. Getting that space and moving the puck while maintaining position is huge in today's NHL, as is not getting knocked into next week on a big hit. Rossi could go anywhere from third to ninth. Hopefully, the Devils don't let him pass if he is on the board.
Alexander Holtz
The SHL can be a harder nut to crack. Playing against men at that age is difficult and a rare thing to see, but winger Alexander Holtz put up good numbers for his age. In the World Juniors, Holtz was dominant netting 5 points in 7 games and really applying the pressure to players his own age, a good thing to see for sure.
More of a goal scorer than a playmaker, Holtz could be the perfect fit for the Devils. With Jack Hughes and Nico Hischier down the middle for the next ten years and both of them being more pass first players, a bonafide scorer will be needed sooner rather than later. If one can build the chemistry long term they could make a line feared across the league.
Drafting best player available is always the best strategy, but with all things equal, Holtz fills a huge need being scorer on the right wing. After Kyle Palmieri, there is not a lot of depth on the right side of the ice or for anyone with a above-average shot on the whole team. Filling that hole will be needed, especially if our GM Tom Fitzgerald trades him in the next year.
Lucas Raymond
Another Swedish player and another winger, Lucas Raymond is quite a different player. At a glance, he has slightly worse numbers in the SHL and at the World Juniors, but this is a case of numbers not telling the whole story.
Watching him back-check and harass opposing players, being in the right position, timing his poke-checks and good stick positioning reminds me a lot of former captain Zach Parise. He has an engine that doesn't stop in either zone and that is something you can't install in a lot of players.
While all players, especially high-end ones, have a high compete level, his always seems to take that extra step. Not getting a lot of time to play in the men's league could have hurt his draft stock, but it seems like most scouts have noticed this. On top of his two-way play and solid playmaking, he has a deceptive shot. One that i believe will turn him into a 20-goal scorer easily and I for one would be happy to see him in Devils red.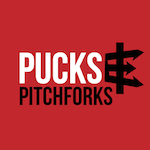 Want your voice heard? Join the Pucks And Pitchforks team!
Write for us!
Jake Sanderson
Sanderson has been all over on mock drafts and he rose a ton at the end of the year. The small things he does are really impressive and having good vision and hockey IQ with the ability to move is huge now.
There's even a chance he could go in the top five with all the hype, but it would be a reach. I would have loved him as an option with the second first round pick but the odds of that are almost non existent now that Arizona has moved on to the playoffs and our pick has dropped. It is a solid pick to get a almost sure thing in a top four defender who can munch minutes and move the puck while not being a liability but we could be passing up some real solid talent. Taking him at seven seems too soon with the offensive talent on the board. The Devils defense is bad, but the team has to draft the best player available not for positional need this high in the draft. In the end, go with whichever of the three forwards if left for us and be very happy no matter which it is.