New Jersey Devils Add Mark Recchi To Coaching Staff
The New Jersey Devils made a smart hire by adding Mark Recchi.
The New Jersey Devils had actual news to share on Tuesday, and it went over as well as possible. Lindy Ruff is adding Hall of Famer Mark Recchi to his staff. It seems like a solid hire that just about everyone seems to really like.
Recchi was let go when the Pittsburgh Penguins moved on from all of Mike Sullivan's assistant coaches. If the Penguins weren't looking to do a clean sweep, it's hard to imagine Recchi would have been part of it, but the Penguins wanted to do a full purge. The Pens were doing very well in the areas Recchi was in charge of, specifically the power play and the development of young talent.
The latter part is really going to help the Devils. Unlike the Penguins, the Devils are almost exclusively young talent. 14 players on the current roster are 25 and younger, and there could be up to a dozen young players who make an impact of some kind next season. That Penguins team was built around two veteran centers, while this Devils team is building around two young centers. It's a pipe dream to hope Nico Hischier and Jack Hughes turn into Sidney Crosby and Evgeni Malkin, but if they are going to develop into a pair of superstars, they need the right coach. Recchi brings an impressive resumè.
He spent six seasons in Pittsburgh, including the past three on the bench. He was very good with the Penguins power play in two of his three seasons. They were in the top five and even led the league in 2017-18. The Devils, meanwhile, were ranked 21st in each of the last two seasons on the power play.
The power play might be the most frustrating thing most Devils fans have to deal with. So often, we see the dreaded pass back before the team fumbles the puck before entering the zone. P.K. Subban was forced to bring the puck in the zone way too often. Taylor Hall (when he was here) tried to play Superman far too often. It was Groundhog Day with this power play. Now, Recchi can put in an actual system that takes advantage of this team's strengths. They have four legitimate power play defensemen (Subban, Will Butcher, Damon Severson, and Ty Smith). This is something a creative coach is going to do damage with.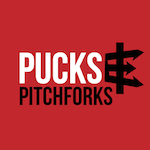 Want your voice heard? Join the Pucks And Pitchforks team!
Write for us!
Recchi's past as a player and a coach brings very important experience in the coach's room. He's won the Stanley Cup as a player with three different franchises, and he was a player development coach when the Penguins won two of their titles. This is a very good hire that's going to pay dividends for years to come. Recchi can glow up from his time with the Penguins, going from a team on the decline to a team on the rise. If he can get a lot out of the young Devils, it could eventually lead to a head coaching job in the future.