New Jersey Devils: Time To Extend Nikita Gusev's Contract
The New Jersey Devils need to give Nikita Gusev a contract extension.
The New Jersey Devils need all of the help they can get for the next few seasons. Nikita Gusev was a brilliant player for them in 2019-20 and can be one of those key players for a long time. He isn't a franchise cornerstone because of his age, but he can make big plays in the offensive zone that can help the Devils win games. They need to take what he did in his first NHL season and reward him for it because it's only going to get better.
He is 28 years old as of early July, so it's not like he is an 18-year-old coming off his draft season, but he can still be a great player for years. Last season, he had 13 goals and 31 assists for 44 points in 66 games before the pause. It isn't anything on a superstar level, but a lot of those points came in the second half of the season. He struggled early on in his own end, which hindered his offensive game.
After some things got figured out, he started to thrive offensively. He found chemistry with Jesper Bratt and Pavel Zacha to form the most productive line on the team for a majority of the second half. This is a trio that can be together for a long time if New Jersey plays it's cards right. The key is getting Nikita Gusev signed to a long term deal to stay with the Devils.
It is hard to predict exactly what he is going to get because he was awesome down the stretch but his early struggles make his point totals look underwhelming. It is fair to assume that somewhere in the 5-7 million range is where he will be for his next contract.
If the Devils get him signed, they can ensure that he can pick up where he left off on the line with Zacha and Bratt. If Nico Hischier and Jack Hughes can be the franchise top centers that we think they can, then Gusev's line would be a wonderful third line. Gusev also might be able to play with one of Hischier or Hughes if things don't pick up where they left off on the other line.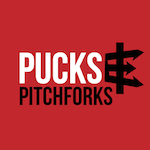 Want your voice heard? Join the Pucks And Pitchforks team!
Write for us!
Gusev should be able to thrive in this new system that Lindy Ruff is going to implement. History tells us that it should be a offensive system and that could be where Gusev becomes successful. The Devils need to get him signed as soon as possible.