New Jersey Devils: The Trouble With Drafting Jake Sanderson
New Jersey Devils fans are waiting to see who goes get 7th overall in the NHL Draft. Most people want Alexander Holtz, and some people hope Marco Rossi is the pick. However, there is one name that fans do not like for the Devils. Jake Sanderson, who will be a 1st-round choice in the NHL Draft, is one face that Devils fans do not want. But why do fans hope the Devils avoid Sanderson at 7th overall? What could happen if the Devils take Jake Sanderson at 7th, and how can fans deal with it? Well, first, we have to look at Sanderson as a player.
Why Don't Devils Fans Want Jake Sanderson?
Jake Sanderson is an 18-year-old defenseman who is on his way to the University of North Dakota. He played with the USNTDP Juniors last season, having a 14-point season with 12 assists and two goals. Sanderson's main positives include his impressive skating ability and the ability to close down space.
With that said, one of his main issues is his defensive abilities in the zone. One central part of a defenseman's job is to lock down any player in any zone, which scouts have seen he is lacking. While going to UND may help his development as a skater, his defensive skills could have some issues if he's not developed correctly. It's reasons like this that make fans afraid.
Another main difference is the talent that could be available 7th overall. Alexander Holtz, a right wing from Sweden, will be one target that the Devils would love to pick up. Holtz's skills include a potent shot and quick hands that could work for the Devils.
One other option is Marco Rossi, an Austrian center with 81 assists in the OHL last season. A great offensive player with a fantastic shot to go along with it. There's also Lucas Raymond, a Swedish winger who's excelling this season. However, he may be gone before the Devils have a chance to select him. But what would happen if the Devils drafted Jake Sanderson and the fans freaked out?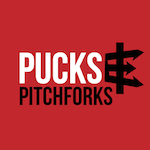 Want your voice heard? Join the Pucks And Pitchforks team!
Write for us!
Fans Have Judged Players Before They Play In The Past
I am a New York Giants fan. As you can imagine, they haven't been having a lot of success lately. Part of the reason is because of quarterback Daniel Jones. Despite his turnover issues, Daniel Jones is the Giants quarterback of the future. That doesn't mean that Giants fans like me didn't judge him before he played a game. During the 2019 NFL Draft, the Giants had the 6th pick, which they used to draft Daniel Jones.
As you can imagine, fans like me were not too happy to waste our 6th-overall pick on a quarterback from Duke. However, when we saw him play against the Tampa Bay Buccaneers in Week 3 that season, we couldn't believe our eyes. When Daniel Jones led the Giants on a winning drive, we were all delighted. Despite his issues, I still have full confidence in Daniel Jones.
One thing that's impressive about the Detroit Red Wings is that they have a sound draft system. One player that stands out is Moritz Seider. Seider has been doing great so far with the Grand Rapids Griffins. However, many Red Wings fans weren't happy when they drafted him. Menu advanced friend wanted Cole Caulfield, who was then taken by the Montreal Canadiens. Despite the mishap, Seider has looked impressive as a player, and I believe he will be one of the many Red Wing greats in the future. I think he can become the next Nicklas Lidstrom.
Conclusion
Whether the Devils draft Jake Sanderson or not, it's not time to judge him yet. Like every other player, it's too early to know if they're good or not. If the Devils do draft Jake Sanderson, this fanbase needs to treat him right. Because no matter how bad a person plays, everyone is still a New Jersey Devil.