New Jersey Devils: Andreas Johnsson Makes A Huge Impact
Andreas Johnsson is going to be a great player for the New Jersey Devils.
The New Jersey Devils are doing everything they can to try and improve their chances of being a good team in 2020-21. The latest addition of Andreas Johnsson from the Toronto Maple Leafs should really be able to help them become a deeper team with better forwards.
The Devils gave up Joey Anderson for Johnsson in a one-for-one deal. Anderson was a nice up-and-coming depth piece, but he isn't going to be much more than that. Johnsson has a much higher ceiling than Anderson despite not being a superstar. This was a deal that the Maple Leafs made to get themselves some cap relief.
The aforementioned ceiling of Johnsson is something that Devils fans should be excited about. In 2018-19 he had 20 goals in 73 games. In 2019-20, different circumstances caused him to only play in 43 games where he collected eight goals. He is a guy who has the potential to be a 20 goal scorer and perhaps, even more, depending on his linemates. He will certainly get an opportunity with the Devils to make a significant impact.
He is certainly going to play somewhere in New Jersey's top-nine. It would be cool to see him get a chance with one of Jack Hughes or Nico Hischier. There is also a good chance that he gets much more power-play time than he had with the Maple Leafs. It should be an addition that helps New Jersey in every way.
One thing that Johnsson has under his belt in his short pro-hockey tenure so far is some big-game experience. He has been a part of, although in a more limited role, some very good and talented Maple Leafs squads that go to the playoffs. They haven't had all that much playoff success but they get there at least. He also is a 2018 Calder Cup Champion with the Toronto Marlies. This guy has been on some winning teams in his pro career so hopefully, he brings some of that experience to the Devils.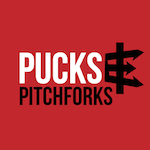 Want your voice heard? Join the Pucks And Pitchforks team!
Write for us!
This was another example of New Jersey weaponizing their cap space. It didn't work out for them as well as they thought last summer but the hope is it works a little better this time around. Andreas Johnsson certainly isn't a game-breaker but he is a significant upgrade over some of the players that won't be back from the past year. This was a great move for New Jersey and the most recent in a long line of good moves.