New Jersey Devils: Jack Hughes Should Not Play At World Junior Championships
There's buzz around Jack Hughes suiting up for Team USA at the World Junior Championship. It's a bad idea.
The New Jersey Devils are likely still a few weeks away from even knowing when next season is going to start, and likely it would be a couple weeks after that before training camp begins. The January 1st start date is looking more and more like a longshot, and the Devils could be a full nine months without meaningful hockey.
With that said, many have floated the idea of Jack Hughes taking one more turn at the World Junior Championships. He skipped the tournament last season since he was on the Devils in the NHL, but he played four games with the U20 team the season before (after scoring 20 points for the U18 team in just seven games en route to a bronze medal).
It makes a lot of sense why people would want Hughes on the team. Team Canada is absolutely stacked, but if Team USA is able to add Hughes, they would be very competitive, if not slightly better. It would give the Americans Hughes, Trevor Zegras, and Alex Turcotte down the middle in the first three lines. It would reunite Hughes with Cole Caufield one last time, since he's almost definitely heading to the tournament. They would likely be paired with Arthur Kaliyev, putting together one of the best first lines the U.S. could ever send to this tournament.
The U.S. team has a ton of talent. Bobby Brink, Cam York, Spencer Knight, and Nick Robertson are some of the other prospects not mentioned yet. It could be a good experience for Hughes.
However, is it really worth it? What is the value to the Devils to this?
Friend of the Let's Go Devils Podcast Julie Robenhymer reported that the Devils are letting Hughes make the decision about the WJC. However, Hughes hasn't told Team USA what he is going to do yet.
While it would be a fun experience, it seems like it would be incomplete. He would almost certainly have to leave early in order to return to the Devils. The tournament is being held through January 5th. So maybe if things move towards an even longer NHL season delay, Hughes could make it work, but it seems more likely he'd have to come back for training camp, which likely starts sometime in December. Is it worth it for him just to get a couple games with kids his age?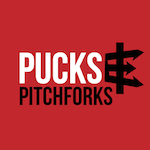 Want your voice heard? Join the Pucks And Pitchforks team!
Write for us!
Also, there's the worst-case scenario. Hughes could get hurt. This would throw the Devils plans astray immediately. They have a lot riding on Hughes, and it's not like injuries at the World Junior Championship haven't impact the Devils in the past. Aarne Talvitie was looking like a very promising prospect in 2018-19 when he went to World Juniors. In the championship game against Team USA, he injured his knee thanks to a hit from Mikey Anderson. He hasn't looked the same since, and is trying to get back what he lost while playing with Penn State now two years later.
At least Talvitie was not NHL ready and had the development time to come back from the knee injury. Hughes is expected to contribute immediately after his theoretical time at the WJC ends. The fun of seeing Hughes back in a USA uniform is not worth the risk. No matter how much non-Devils fans would love to see it.