New Jersey Devils: Impact On Team USA Camp Roster
The Devils had some impact on the Team USA World Junior camp roster.
Because of where the New Jersey Devils are at as an organization, they are going to impact the World Juniors as a whole because of the fact that they have a lot of amazing prospects. USA Hockey released their preliminary roster for the World Juniors camp they are about to have and there are some interesting New Jersey Devils storylines that follow it. They are impacting the team big time but who is on the roster and most importantly by who isn't on it.
For one, Devils' prospect Patrick Moynihan is on the list of Devils prospects that will attend this camp. We don't know for sure if he will make the final cut but he is going to get the chance. He was New Jersey's 6th round (158th overall) pick in the 2019 NHL Draft. He is a current player for Providence who hasn't started their season yet because of the coronavirus.
In 2019, Moynihan made a name for himself as a freshman at Providence. He scored 13 goals and had 8 assists for 21 points in 34 games. Those aren't bad numbers at all for a freshman who was just drafted. He is known for being a difference-maker on the offense and defensive sides of the puck. It should be really interesting to see if he is allowed to make an impact on this year's version of the World Juniors.
The other big piece of info that came out of this roster is that Jack Hughes will not be sent to team USA. The Devils are keeping him back in case that they are getting ready to begin their season. This is a smart decision even though some people are mad about it.
A case can be made that it would be good for Jack to go and dominate that tournament because that is exactly what he will do. Destroying a bunch of kids won't, however, be better for his development than playing against the competition in the NHL. Yes, he had a subpar rookie year but there were plenty of moments where he had brilliant looking plays.
When the National Hockey League resumes, you can expect different things from Jack Hughes. He hasn't played in a while but you can expect him to be much better this year. He went into the offseason with knowledge of what to expect in year two. He should be fully prepared to use his skill to his advantage and make big plays when play resumes. This is a great player that has a bright future.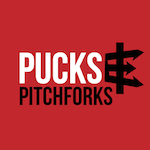 Want your voice heard? Join the Pucks And Pitchforks team!
Write for us!
Although Team USA's defense doesn't look as promising as some years, their goaltending is very good and they still have a lot of high-end skill upfront. They might not have the talent (as a whole) of Team Canada this year but they do always play them hard no matter what. Hopefully, Moynihan and the rest of the crew can have a great tournament this year!