New Jersey Devils: P.K. Subban and Miles Wood Scrum During Scrimmage
Fights during camp are pretty common at high levels of hockey. Intensity runs very high for a variety of reasons – team expectations, personal expectations, battles for roster spots, etc. However, this one feels a little different. Subban appeared to be very frustrated, even after the scrum. Wood seemed irritated that Subban elevated the encounter to the level it reached.
Wood, a known agitator, has a history of getting under the skin of anyone he faces. He finds himself in scrums in the NHL consistently and faced some scrutiny from New Jersey Devil Wayne Simmonds while he was with the club last season. Subban has a history of butting heads with teammates as well, particularly while Subban was with the Montreal Canadiens.
Therefore, this scrum could be one of two things. It could be a positive – a display of passion and intensity leading up to a season where expectations for the New Jersey Devils are low. This would be a great sign for fans who are otherwise questioning how invested the devils players are going into a season where they are projected to miss the playoffs (by a lot).
It also could be a negative. Wood and Subban both have a history with conflict of this nature, and it would be an albatross in the room all season if there was any ongoing bad blood. Subban especially is no stranger to this sort of controversy.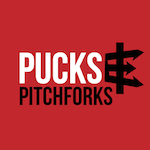 Want your voice heard? Join the Pucks And Pitchforks team!
Write for us!
In a post-game interview, Wood compared the skirmish to siblings fighting and went on to say they were on good terms. Based on the compressed schedule that the NHL will operate on this year, it'd be best if the Devils players avoided internal negative confrontation going forward. However, this will be something to look out for as the 2021 New Jersey Devils season kicks off.