ESPN Contract Could Help New Jersey Devils This Season
The NHL is finally going back to the Worldwide Leader in Sports. ESPN and the best hockey league in the world have a new deal to broadcast games for the next seven seasons. It includes four Stanley Cups going on ESPN, some ESPN+ exclusive games, and simulcasting more than 1,000 NHL games to bring more access to the sport to homes across the country.
It's a great deal for the NHL at a time they desperately needed an influx of money. The deal is reportedly worth north of $400 million. It's no secret owners are not happy with how the season has gone in terms of making money with fans still being held out of most arenas, but this will definitely help. This isn't even it, the NHL is reportedly still working on a deal to keep half of its schedule (and presumably three Stanley Cup Finals) on NBC. Its Peacock platform seems like a good place for content just like ESPN+, and they could work out a deal that would make most games available to everyone for much less than the NHL package.
This is a really good situation for fans. Peacock and ESPN+ are relatively cheap when compared to other streaming platforms.
ESPN deal could help New Jersey Devils in an unexpected way this season.
This is also really good for the New Jersey Devils. Obviously, this will create more fans, and some could choose to root for the Devils since they have incredibly likable players in Jack Hughes and Nico Hischier alongside a future of young talent that could make them competitive soon. However, they are not competitive right now. So, luckily for them, the ESPN deal does not go into effect immediately.
One might ask, "how could this be good for the Devils this season if it doesn't take effect until next season?". Good question.
There are rumors that teams are very unwilling to spend money at the trade deadline this year because of the questions surrounding arena capacity. However, most of these reports came from sources speaking before this ESPN deal was announced. Let's say the NBC deal is only $300 million (very unlikely, but just low balling here), then that means a guaranteed $710-720 million is coming to the owner's pockets. That's without considering Adidas' deal for merchandise, arena deals, parking deals, local broadcasting rights (which are also incredibly expensive), Sportsnet broadcasting rights in Canada, and advertisements strewn across the arena. Oh, and ticket sales. With the COVID-19 vaccine in full sprint, the arenas could realistically be full capacity by next season.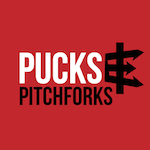 Want your voice heard? Join the Pucks And Pitchforks team!
Write for us!
With all these facts in play, teams could very easily change their turn during the trade deadline. The Devils would be the team that might benefit most outside of the Nashville Predators.
They have a ton of impending free agents, including Kyle Palmieri, Travis Zajac (who has a no-move clause), and Nikita Gusev. They also have defensemen Sami Vatanen, Connor Carrick, Ryan Murray, and Dmitry Kulikov to add depth to another team's blue line. These are incredible pieces in a normal year, but they have mostly struggled. However, with some extra money to spend, teams might be willing to take a chance to make a run at a championship. A team like the Toronto Maple Leafs will always push for greatness, but someone like the Florida Panthers might be changing their tune now that it's clear they could be the real deal.
The Devils need as many teams claiming to be buyers as possible. A fluid market means they will get the best possible deal for all of their top free agents to be. The ESPN deal might be exactly what they needed to get teams to buy into the idea.