New Jersey Devils: Capitals Sweep Highlights Another Tough Year
The New Jersey Devils have had a lot more bad moments than good over the past decade. Save for the 2012 run to the Stanley Cup Final, that was ended because of a series of events that led to a major penalty against the Los Angeles Kings, there's not much hope for fans. On Sunday, the Devils confirmed a season sweep to their division rival the Washington Capitals. It's another low point in a seemingly never-ending run of bad luck.
The Devils have a lot to be excited about for the future. We know. We hear it all the time. Jack Hughes and Nico Hischier and future and such. It's all well and good to think about what's about to come, but nothing is certain in hockey. All we know is that the Devils are bad now, and the luck seems to be that of Charlie Brown.
Jack Hughes might be the most snake-bitten player in the entire National Hockey League. He's literally the best player in on-ice stats almost every single night for the Devils. Sometimes he's even the best player on both teams when looking at the advanced stats. Yet, he almost never puts up actual points. Who's fault that is really isn't the debate here (it's not his fault), but the fact that he's hit more posts than goals over the past three weeks is a testament to the luck this team is having.
Let's not forget about the Devils other number-one overall pick. Nico Hischier already had bad luck before stepping onto the ice to start his season. He suffered a major leg injury before the league agreed on protocols to come back. Once he was finally able to return, he had to go on COVID protocols. Once he was finally over that, he played five games before a tipped P.K. Subban shot hit him in the face. He's been out ever since.
Speaking of Subban, he's actually one of the few bright spots on the team, going from complete albatross to an actual positive player on most nights. However, the reason for that is his pairing with Dmitry Kulikov, and he's likely headed out the door once next week's trade deadline hits.
It's another year of "can't wait until next year". Nobody's saying to rush things, and a lot of this season's issues were out of the team's hands (Corey Crawford retirement, COVID outbreak, etc.), but to have another season where the hope is for little things like Yegor Sharangovich's eight goals or Pavel Zacha's point streak that's long gone or Ty Smith's nearly impossible Calder Trophy chances, it just starts to wear on fans.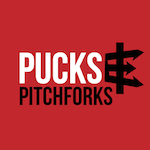 Want your voice heard? Join the Pucks And Pitchforks team!
Write for us!
The Devils will be sellers again at the trade deadline, but they need to do something more this offseason to make this a competitive club. They already wasted all three years of Nico Hischier's entry-level contract, and they are about to do the same thing with Hughes'. It's time for the positivity to be in the present so we don't have to worry about winning another trade deadline or draft and they can win an actual game.