New Jersey Devils Get Underwhelming Return For Kyle Palmieri, Travis Zajac
The New Jersey Devils were in talks with multiple teams to trade Kyle Palmieri. It was apparent he was on his way out when they sat him out of the lineup for the past two games. However, most fans thought they'd still get a good return for him since he was considered by some to be the best piece on the market now that the Nashville Predators are back in the playoff race.
The Devils ended up trading Palmieri and longest-tenured Devil Travis Zajac to the New York Islanders for a 2021 1st-round pick, a conditional 2022 4th-round pick, and two prospects that probably won't do much of anything in the league. It's an interesting deal to say the least.
It's clear that the Devils prioritized a 1st-round pick in any deal. The Bruins were probably not giving that away apparently, and the Devils moved on to old friend Lou Lamoriello.
Lamoriello is getting up there in age, and his days as a GM are limited, so he's making moves to finally bring a Stanley Cup back to the island. Palmieri is a great fit for them after Anders Lee went down with a season-ending injury. Adding Zajac is a bonus bottom-six center that will provide leadership and an ability to provide clutch scoring.
The Devils got that 1st-round pick they wanted, but it's going to be in the 20s or 30s. This is also not the best draft in terms of total talent. Last year's draft, the Devils could have gotten someone like Jacob Perreault or Brendan Brisson with this pick. Now, the Devils are looking at players like Daniil Chayka or Matthew Coronato. They aren't bad prospects, but they don't have the upside we saw last season.
It's a strange year for the trade deadline, and the Devils took the best deal that was on the table. The pandemic is still impacting the NHL's bottom line, and the playoff revenue will not be as plentiful. Teams aren't looking to add salary, so Palmieri and Zajac might not have the value they had last season.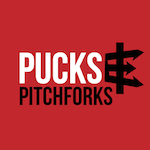 Want your voice heard? Join the Pucks And Pitchforks team!
Write for us!
The one reason this deal might be a positive one is if the Devils sent them to a team they wanted to go to. These two were both great players for this franchise. If they wanted to stay in their homes with their families, this is one way to do it. It's fair to them when usually this sport isn't very fair. Also, if the Devils did want to consider bringing either of them back in the offseason, sending them somewhere that makes them happy is one way to keep that option open.