New Jersey Devils: Kevin Bahl Plays Like An NHL Defenseman Already
The New Jersey Devils had avoided playing their young defenseman in the lineup this season. Players like Kevin Bahl, Michael Vukojevic, and Reilly Walsh were all kept on the AHL squad despite also playing in Newark and being an easy callup. However, P.K. Subban and Jonas Siegenthaler were both placed on COVID-19 protocols. Connor Carrick is already in the lineup, and Matt Tennyson is injured. The Devils were literally running out of bodies on the blue line. So, instead of putting forwards on defense like the Binghamton Devils were forced to do, the Devils called up Bahl.
Most expected a litany of mistakes from Bahl right off the bat. He's an extremely green defenseman who brings elite size to the equation. However, it usually takes a few years for defenders to get used to using their strength in a positive way.
That's not the case for Bahl after three games. He's looked comfortable for the most part. He does make a mistake here and there, but it rarely ends up turning into a high-danger chance against his goalie. There was one crucial mistake against the Boston Bruins on Monday night, but Scott Wedgewood was there for the save thankfully.
This probably isn't the perfect time to write a story about how a 20-year-old defenseman is NHL ready. The Devils were completely caved in against the Bruins, but it clearly wasn't Bahl who was at fault. The Devils just didn't show up to play on Monday. Boston put up 12 high-danger chances at 5v5 to the Devils four. And three of those four chances came in the third period when the Bruins already had a multi-goal lead.
Bahl was only on the ice for one high-danger chance and saw five high-danger chances against him. That skews his numbers on the season, but the overall look of Bahl is impressive. His poke check has been his best asset so far. He's been able to knock the puck away from forwards trying to make a move on him. That's an important asset because opposing players are going to assume he's going to use his body to stop them. If he can use other means to get the puck away, it will throw the opponent off their game.
He has been good at using the body, though. He's given out seven hits while only taking two. It's more than hits, though. Bahl has been getting dirty in board battles and he has cleared the crease for his goalie. While he still has to work on finding his man in the circle on the one timer, being able to stop players from taking advantage down low has been a problem the Devils need to solve. If they can solve it in house it would be a huge sigh of relief.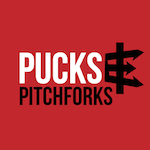 Want your voice heard? Join the Pucks And Pitchforks team!
Write for us!
The Devils have to make a decision now. The pandemic-shortened season only allows a player to play five games before a season on their entry-level contract is activated. This would take a full year of control away from the player just to play him in the last four games of the season. Obviously, the Devils are more competitive with Bahl in the lineup, but these rules and the fact that Subban and/or Siegenthaler could return at any point might prove too much to get a full look at Bahl. Either way, he's shown us that he can be a part of the NHL defense next season. It makes the situation look just a little less dire.