Jimmy Vesey Chooses New Jersey Devils Years After Choosing Their Rivals
The New Jersey Devils announced their professional tryouts on Tuesday, and three players with NHL experience are going to attend training camp. Mark Jankowski is a former 1st-round pick by the Calgary Flames, but he has had a pretty rough start to his career and never lived up to his first years. Tyler Wotherspoon was in the Calgary Flames system years ago and even played 30 NHL games, but he hasn't appeared in once since January of 2017. Those two won't grab the headlines (although we'll have more on Jankowski later), but the one everyone is talking about is Jimmy Vesey.
That's because the Devils were once part of the Jimmy Vesey sweepstakes when he left college. He eventually chose the New York Rangers over teams like the Devils, Buffalo Sabres, and Chicago Blackhawks. Devils fans were hoping they could get Vesey to come to New Jersey because his teammate Alex Kerfoot was also part of the system. The logic was flawed, and Kerfoot ended up leaving too.
Vesey's career hasn't worked out as many hoped. He was a two-time Hobey Baker finalist in college, but in the NHL he has never lived up to those kinds of expectations. He has five seasons under his belt, but he's never broken 35 points. Last season, he only played 20 games for the Vancouver Canucks. He had three assists and no goals for them and scored seven points in 30 games for the Maple Leafs before that.
He is still just 28 years old, but he should be in his prime now and it seems he's in the twilight of his career. The fact that he's signing with the Devils on a professional tryout shows he's running out of NHL options. He's a 6'3 forward who had a 30-goal season in the NCAA. He will get chances until the well runs dry.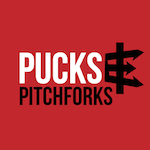 Want your voice heard? Join the Pucks And Pitchforks team!
Write for us!
This move comes with no risk for the Devils. He can come to training camp to provide competition, and if he isn't better than some of the Devils prospects, then he will be looking for another NHL job. If the Devils find something like they did with Drew Stafford a few years ago, a player who can slot into the lineup at any given time if a player needs a night off, then it will be a wild success. There are no expectations here, and that's probably for the best for Vesey's future.