New Jersey Devils Have Much Different Priorities With Prospects
It's still technically summer. It might be after Labor Day, so we can't wear white, we're waiting for those crisp temperatures of fall, the Halloween candy is on the shelves, and it's time for the prospects challenge. Usually, the prospect challenge happens at the beginning of September, so we're still directly in the summer temperatures, but this year it's happening towards the end of the month.
The New Jersey Devils are going into prospect camp with some very specific priorities. If we could see the roster, we would know those priorities a little better, but that's another issue entirely. With the information we have, we know that the Devils are trying to learn as much as they can about their young players. Duh, right? A more obvious sentence has not been said. Usually, the Devils might want to see how a player could fit in the roster. This season, that might not be the priority.
This Devils team does have some open spots. Third line center is the biggest hole on the roster. There are some options to fill it with Jesper Boqvist, Pavel Zacha, and even newly signed PTO Mark Jankowski. It also could be Devils prospect, Dawson Mercer. Mercer is looking to get a step up on the competition before training camp even starts.
In years past, we were hoping to see the starts of Jack Hughes and Nico Hischier, both players who were definitely going to make the opening night roster. Jesper Bratt started his push towards a surprising roster spot during the prospect camp. He stood out in the best possible way that season.
However, this year is more about seeing what the Devils have. Luke Hughes is a high priority for the Devils to pay attention to. He was the team's fourth-overall pick in this year's NHL Draft, and he's a fixture for the team's future. He is going to the University of Michigan, where he will play with fellow draft prospects Owen Power, Matt Beniers, Kent Johnson, and many, many others. This is a stacked team, and it makes the most sense to send Hughes there for his development. The Devils just want to see him play hockey up close and personal. He's not making the roster.
The same goes for Chase Stillman. The Devils' other 1st-round pick is going back to juniors after camp, but it's good to get a look at him to see what the team drafted. He was someone who surprised many when he was drafted, but it's an interesting pick that could pay dividends if he works out. He's another that is here just for research more than fighting for a spot on the roster.
There are a few players looking to establish their position on the AHL roster. Graeme Clarke had a good season after he was forced to play in New Jersey after the postponement and eventual cancellation of his OHL season. The same happened to defensive prospect Michael Vukojevic. They both now have a professional season under their belt, and they come in with some experience.
Since we don't have a roster, the rest of the Devils prospects that are getting a second look are a literal guess. We don't know who else might be here. Is someone like Boqvist getting extra work? Did they invite anyone from overseas, or did they skip it because a lot of their seasons already started?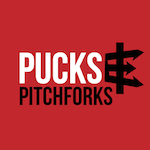 Want your voice heard? Join the Pucks And Pitchforks team!
Write for us!
One thing is clear, this prospect camp is closer to what other teams' are. The Devils aren't trying to find the next gem. They are trying to develop their young players. This isn't really a tryout as much as it is a test. Let's see which prospects pass, and hopefully soon we get a roster so we know who is competing.