New Jersey Devils Say Goodbye To Travis Zajac With One-Day Contract
The New Jersey Devils announced that former center and 15-year NHL veteran Travis Zajac is calling it a career. He spent 1,081 games wearing the "NJ" crest between the regular season in the playoff. He spent the final 27 games of his career on Long Island where he joined fellow former Devils Kyle Palmieri, Andy Greene, and Cory Schneider in their quest for a championship. Moving Zajac felt different, as he kept contributing to a team that was trying to finish its rebuild seemingly every season.
Zajac starting his career on a team of contenders. Then-Devils GM Lou Lamoriello took him with the 20th-overall pick in the 2004 NHL Draft. The Devils didn't have another pick until the 5th round, so they had to hit on the Zajac pick. The 2004 draft was not exactly star-studded. It had Alexander Ovechkin and Evgeni Malkin at the top, then there were quite a few busts before and after Zajac's name was called. Only Ovechkin played more NHL games than Zajac from his draft class.
Zajac spent two seasons at the University of North Dakota before joining the Devils. He made an immediate impact on the roster. He scored 17 goals and added 25 assists in his rookie season. He finished 10th in Calder Trophy voting in 2007 ahead of names like Phil Kessel, Mike Smith, and future teammates Drew Stafford and Ryane Clowe.
After a slight sophomore slump, Zajac's third year saw a huge jump in offensive performance. He put up 62 points in 2008-09 and a career-high 67 points in 2009-10. However, while Zajac's performance was hitting its peak, the Devils as a whole were coming to an end of an era. The Devils' stretch of 13 straight playoff appearances ended in 2011, a season that saw a major drop in production from Zajac.
From 2007 to 2012, Zajac played 52 playoff games with the Devils. For the next eight seasons, he played five playoff games with the Devils. He ended up going on a nice run with the New York Islanders last season, but his legacy is defined by struggling Devils teams at the end of his career.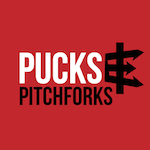 Want your voice heard? Join the Pucks And Pitchforks team!
Write for us!
Zajac's legacy is complicated, but for today he must be celebrated. He never wavered at a time when Devils players were leaving in spades. Right after Zach Parise chose to leave the Devils in free agency, Zajac signed a max deal to stay in New Jersey for the next eight seasons. It was actually the first contract signed under the new CBA that was signed before the 2013 lockout-shortened season.
Zajac will always be known for his positive demeanor, his defensive prowess, and his ability to lead a team as the top center in a league that continued to move past his particular skillset. He was able to shut down names like Sidney Crosby on a nightly basis. He did his best to keep the Devils competitive. He played any role he was asked. He could play the top line with Jaromir Jagr or the third line with two rookies. Devils fans are lucky they were able to root for Zajac for a decade and a half.