New Jersey Devils: Florida Trip Will Be A Great Test
The New Jersey Devils are off to a very interesting start. Without their best player, Jack Hughes, they are 7-4-3 for 17 standings points. That has them as a bubble team in the Eastern Conference which is probably where they will stay all season long. They had a very impressive showing against the New York Islanders last week but they lost to the Boston Bruins a few days later.
Now, following a very intense shootout loss to the New York Rangers, they have what might be the toughest trip an NHL team can make right now. That is down to Florida to play the Florida Panthers and Tampa Bay Lightning.
It begins tonight against the Panthers. As of right now, they lead the Atlantic Division and entire Eastern Conference with a record of 11-2-3. They are going through some adversity right now as they are a few weeks removed from firing Joel Quenneville.
They will also be missing Alexander Barkov right now as he was injured in their most recent game. He is considered week to week which is a huge blow. He currently leads them in both points and goals so it won't be easy to move forward without him but they have to.
The two Florida teams are going to be very difficult for the New Jersey Devils.
Of course, the New Jersey Devils are one of two teams to beat the Panthers in regulation. It was a very nice win at the Prudential Center last week as they had an offensive explosion. If New Jersey really wants to make a statement, they need to do that again.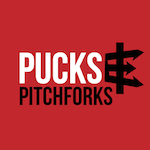 Want your voice heard? Join the Pucks And Pitchforks team!
Write for us!
After that, they will head over to Tampa Bay to play the Lightning on Saturday. The two-time defending Stanley Cup Champions look a little bit different than they did last year but there is no doubt that they are still an elite team with a record of 8-3-3.
They are a team loaded with Hall of Famers so it is never going to be easy playing against them. New Jersey might need an even better game against the Lightning than they get against the Panthers in order to win.
Road trips like this are difficult but they are also fun. The Devils should see both of these teams as great measuring sticks for their success. If they can leave Florida with four points, it would be as good of a two-game trip as they will have this season.
Look for two young centers to lead the way here. Nico Hischeir and Dawson Mercer have been amazing so far and need to be dominant in Florida. If these two drive their lines to success, the Devils have a great chance to win. Either way, expect to see two very entertaining games.