New Jersey Devils Fail To Finish Off Minnesota Wild In Overtime
The Devils put forth a solid effort despite another bad start but fell 3-2 in a shootout to a quite good Minnesota Wild team. The game picked up as the night went along and at points was starting to feel like a rivalry game with all the scrums and the Devils did a good job of not letting themselves get pushed around.
They also are continuing to have depth problems and have called up Chase DeLeo on top of Zetterlund. Unfortunately for both players, they did not really get a shot tonight playing five minutes each putting them in a bad situation. If you don't play you can't earn the coach's trust and if you don't have the trust you won't play so moving forward they will have to figure out if they can get at least ten minutes from them or if they are going to ride the top six hard.
In other somewhat connected news, Nathan Bastian has been waived and 100% needs to be claimed by the Devils. This is the definition of a 0 risk pick up and the Devils have the virtual guarantee that he will be better for them thanks to his chemistry with Mcleod who while playing well is not getting points. The Devils had a top fourth line last season when they were paired with Wood and for the cost of nothing they can reunite this when he returns.
The Good
Sharangovich put another goal in and looks to be heating up finally. This should make the Devils a far better overall team. He was also moved up the lineup and played some bigger minutes than before which is showing that the coaching staff is seeing him more like the player he was last season and this could be how he begins to hit his stride again. In overtime, it is worth noting that when Sharangovich fired a shot, the first thing he did was immediately get back on the puck and muscle a defender off of it to maintain possession. Thanks to this seemly small play, the Devils kept the pressure on long enough that they almost put away the game multiple times and this is something as a fan I love to see.
Jimmy Vesey may not have had a point and was a minus on the night but he shockingly had a pretty good game overall. He pushed the play well and fired three quality shots on net. He also almost tied the game late with a beautiful tip and continues to be a quality signing for the depth of the team.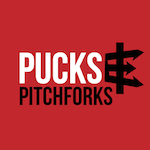 Want your voice heard? Join the Pucks And Pitchforks team!
Write for us!
Mercer and Bratt both were all over the ice as per usual but tonight they put up over 20 minutes of work and the engine never quit for either of them. Mercer had plenty of chances especially in the final push of the third and in overtime looking like a veteran. The small plays and his willingness to take smart chances and keep the opponent on their toes is just impressive to watch on a night-by-night basis.
The entire team also should get a round of applause for the dominant overtime which saw them almost finish it many times it was hard to believe it went to a shootout. This was really about puck control and the aggression showed when they knew maintaining possession was the top priority.
The Bad
Overall, the team played a good game without too many glaringly bad plays despite the slow start but again the special teams continue to haunt them. The team had four powerplays and though they did not have a full eight minutes it was another game in which they not only did not score but went negative. Once again it is a simple case of if you don't change how they run it the results will not change.