Damon Severson Wants to Remain with New Jersey Devils After Career Year
It might feel like Damon Severson has been with the New Jersey Devils for about 18 seasons, but in reality, it's only been eight. That's what happens when you make your NHL debut at 19-years-old, and in 2022, you are the last link to a previous era of New Jersey Devils hockey.
Severson, now 27-years-old, has one year left on the six-year contract that he signed on Sept. 11, 2017. Coming off of a career year – 46 points (11g-35a) in 80 games – where does he fit in with the current group? He's been New Jersey's best defenseman on their roster during some seriously lean seasons, and now with other talented defenders in the mix (Dougie Hamilton, Ryan Graves), Severson has been able to properly slot in where he fits best – the second pair – and the results showed that.
What current GM Tom Fitzgerald has to navigate this summer is this: where is Severson's most valuable to the franchise. Is it using him (and his expiring contract after the upcoming 2022-23 season) as a trade chip to acquire a starting goaltender or a top-six sniper, or is it to re-sign him to a deal that solidifies the Devils' back end for the next few years? Keep in mind that Graves (26-years-old) is also scheduled to become a UFA in the same summer as Severson and that Jonas Siegenthaler will be an RFA at the same time. Oh, and that Luke Hughes kid will be in Jersey soon, and he's pretty good at hockey.
Devil For Life?
For Severson, he wants to stay in New Jersey, a place that is now his home. He wants to be that guy that stays with a franchise for the duration of his career like so many of the players that Devils fans have adored for so long (see: Daneyko, Ken, Elias, Patrik).
"I think it's something to take pride in, for sure," Severson told Pucks & Pitchforks when asked about the possibility of staying with one franchise for the duration of his career. "Obviously it's out of my control, but you look at guys like you said – and I don't think I'm in the class of some of the Devils legends that have their numbers retired and played their whole career here – but a recent player like Travis (Zajac) and what he did for the organization. Obviously, he didn't finish his career here, but he played most of it here, makes this his full-time home now, his wife and kids love it here and they really enjoy being a part of the New Jersey community, and being Devils for life."
"When the time comes to make those decisions we'll address that. It's something I think a lot of people should take pride in and it's rare that it happens these days in the NHL," added Severson. "They say everyone gets traded at least once in their life, but if that never happens for me – great. If I'm a good hockey player and I can help a team win, and am wanted, that's the biggest thing. You want to feel wanted."
Behind the scenes, those conversations have already started. Severson let Head Coach Lindy Ruff know he'd like to stick around during his exit interview. The message was also relayed to Fitzgerald, and there have been multiple conversations in the locker room amongst his peers as well.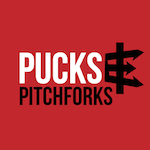 Want your voice heard? Join the Pucks And Pitchforks team!
Write for us!
"It's a little bit out of my control, having to wait for my phone to ring (if the Devils want to extend my contract when free agency officially starts). I'm not a UFA. I've had conversations with Fitzy about my year. I've had conversations with Lindy, and my teammates as well. I don't know what's going to happen because I'm not an unrestricted free agent (at the end of this season). But overall, I'd be more than willing to chat with Tom Fitzgerald about a contract extension if that's the case," Severson told the media during his final availability for the 2021-22 season.
"If he doesn't see fit, it's his team, that's up to him. The message has been relayed to them that if they're interested in keeping somebody like me – I've been here my whole career. I see myself as part of the solution on this hockey team to be a playoff team and to be a contender. It comes down to proving that, showing that. If my phone rings, I'd be more than willing to negotiate," he said.
Leave it to Severson
"I'm more than happy to be talking contract with this team to extend, with some of the key players we have and conversations that I've had with Nico (Hischier) and Jack (Hughes) and Bratter (Jesper Bratt) and these guys. I'm looking forward to hopefully getting the opportunity to be together with these guys for a long time."
Why would you not, right? Over the next five-to-seven years all he has to do is get the puck to no. 13, no. 86, and no. 63, and let them do their thing. This season, albeit overall disappointing (again), was a good one personally for Severson, who missed only two of New Jersey's 82 games. "We definitely fell short. We had high expectations for ourselves. There are steps we took in the right direction, and you saw some of our key players took big steps in the right direction."
Severson himself, who now has 566 NHL games under his belt, took some important steps as well, as highlighted by Ruff during his final media availability on May 2.
"I saw a level of predictability in his play; in that, throughout the year he had a real steady year. He was involved in our penalty killing and was good in that area, he was with our power play for a long length of time," said Ruff of Severson who set career-highs in points, assists, and shots on goal (158), power-play goals (5), power-play points (16) and tied a career-best with 11 goals while finishing the season tied for fourth on the team in points. "He was a guy that got shots through and made the right plays. He put together probably his most consistent year."
"He was making the easiest play first instead of some of the higher risk plays that I saw last year. I can use the word simple. Sometimes he was just simple and effective. It's something that we harp on in our meetings – what's available (when making a play). When our puck management sometimes went in the wrong direction, it was usually because of the play choice that we chose to make on the ice."
As we mentioned above, life can be a lot easier when you just have to dish the puck to your talented forwards and let them do their thing. Severson learned that sometimes less is more, where maybe in the past he was trying to do too much, or maybe he just wasn't confident in passing the puck to less-talented players.
The Future is Now
I've flip-flopped on this over the years, should he stay or should he go? Right now, I'm in the camp of he should stay. If you trade him, is it worth it? Maybe, if you're getting a bonafide no. 1 netminder. But this is a guy that wants to be here and wants to be a part of the solution of turning this thing around. Those kinda guys don't necessarily grow on trees. As I reported during the season, I could see him signing a team-friendly deal, something like the deal he is nearing the end of that averaged $4.1 million per season. The sticking point will likely be the length of the deal, and for now, four-five years feels about right.
https://twitter.com/hockeynight/status/1350579493413527554
"The rebuild is over now. It's time…starting (in) training camp and all next season, I'm looking forward to hopefully not having these conversations with you all at this time of year," Severson said to the media while 16 teams were preparing to start their Stanley Cup Playoffs.
"It was a tough year, obviously we're not in the playoffs again. There are pieces in place, but we are going to have to stop saying that. Starting pretty much now."
"Next year, if we're standing here talking this time of year while other teams are gearing up for the playoffs…then it would be a huge disappointment. It just wouldn't sit well with anybody in this organization. This is it now. No more looking forward to that first-round draft pick, let's be looking towards the first round of the playoffs."
Devils fans can only hope.