New Jersey Devils Could Be Good Bet Right Now For 2023 Stanley Cup
As is tradition, the odds for the 2023 Stanley Cup have been released, and as can be expected, the New Jersey Devils were relatively low on the list. Caesar's Sportsbook list the Devils at +10000 or 100/1 to win it all next season.
After missing the playoffs year after year after year, the Devils don't deserve the benefit of the doubt. Even with Jack Hughes turning into a legit superstar, Jesper Bratt rising right along with him, and Nico Hischier becoming a legit two-way star, the Devils are still far away from the Colorado Avalanche or Tampa Bay Lightning.
The Devils have no trusted goaltender on the roster, and they won't win games without one. They are still missing another star in the top six, and it won't get a lot of respect until it does. They probably could use another defenseman to replace P.K. Subban, and they need a few of the young players to prove themselves.
However, the Devils feel like a good bet here only because it seems pretty destined for them to have a headline-grabbing offseason. Will they sign Johnny Gaudreau? Some say they have a good chance to break the bank on the best free agent in the class. That would move the numbers in the Devils' direction. And if they get a goalie on top of that? Even better. They could even trade their second-overall pick for a legitimate star. The Devils are in a position to succeed in the offseason again.
Where do the New Jersey Devils rank in 2023 Stanley Cup odds?
Last season, the Devils came out of the 2021 Stanley Cup Final 65-1 to win it all. By the time the season started, after signing Dougie Hamilton, Jonathan Bernier, and Tomas Tatar, they were 50-1. That is still a huge long shot, but if a bettor put money on the Devils in July and cashed out in September, they would make money.
And here's the thing, shopping around will make you even more money. The Devils are 70-1 to win it all according to Fanduel. The Devils are 80-1 according to BetMGM. Those are worse than what Caesars has right now. Still, Devils fans should be betting all of these odds, as some will vary more than others.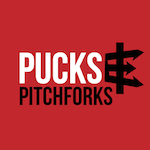 Want your voice heard? Join the Pucks And Pitchforks team!
Write for us!
Here's the great part about moving around money, one could theoretically hold one or two bets through the offseason when the odds are likely to go down, cash them out before a game is even played, and then they can hold one other bet through the season as a hope and a dream. Reminder, only bet with money you are willing to lose.