Sun Is Rising On Next Great Era Of New Jersey Devils Hockey
For the last several seasons, the New Jersey Devils have found themselves in a very unfamiliar position at the center of the NHL's rumor mill. This offseason has been no different with the Devils seemingly frontrunners or runners-up to some of the biggest players available across the league.
Just like their play on the ice, there have been a lot more swings and misses than home runs. New Jersey missed out on Kevin Fiala, Johnny Gaudreau, and Matthew Tkachuk. Acquiring talent like that would have 86ed the club's rebuild status and replaced it with the much more desired "playoff contender" title.
As it turns out the Devils were not as close to nabbing these players as we had all thought. And while it's fun to be involved in all the insider chatter it was never going to end well for the Devils – no matter what the outcome.
NHL fans are very hard to please and New Jersey fans might be among some of the most hard-headed in the league. Tom Fitzgerald was never going to win with this crowd. Anything short of building a super-team that included all of the aforementioned players and more was never going to fly. And truth be told, there is no guarantee that any one player would be enough to push this team over this decade-long hump of misery.
So now what?
How about some more patience?
If we harken back to the Devils' glory days they were never built by adding superstars or throwing big contracts around. New Jersey was built from within aided by a bit of luck. Scott Stevens was gifted to New Jersey by sheer dumb luck. Much like Jack Hughes, Nico Hischier and Simon Nemec were gifted to them by way of Lottery luck. And we can certainly argue that acquiring Stevens with that fortunate bit of chance changed this franchise's entire trajectory. Who's to say the same can't be said for the latter trio of players?
Ken Daneyko, John MacLean, Martin Brodeur, Scott Niedermayer, Sergei Brylin, Patrik Elias, Jay Pandolfo, Scott Gomez, Colin White, Brian Gionta, and even Mike Rupp – all drafted by the Devils and all foundational pieces of Stanley Cup-winning teams. Many of them are multiple Cup winners. Take comfort in knowing that we already have the next wave of generational pillars in the pipeline.
Are we all tired of meaningless hockey and draft lotteries? Of course we are! However, Rome wasn't built in a day and neither were the Tampa Bay Lightning or Colorado Avalanche. Building a foundationally strong hockey club takes a tremendous amount of work, dedication, and time. In a world full of Tic-Toks and Youtube shorts, time is an ever-shrinking commodity. Given enough of it the payoff will far exceed that momentary excitement of adding a big-name player.
I think it's easy to forget that today's big-time contract will someday become a big-time headache. There are plenty of General Managers and fanbases throughout the league that can attest to this.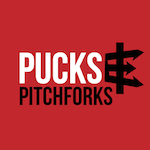 Want your voice heard? Join the Pucks And Pitchforks team!
Write for us!
So while Matty T or Johnny Hockey may not be Devils today the club is still headed in the right direction and the foundation is growing stronger by the day. Hang tight, hold on and be patient because the sun is finally rising on the next great era in Devils hockey.