New Jersey Devils: How Alexander Holtz Stacks Up To Rookie Class
Alexander Holtz had himself a preseason. He finished with three points (1 G, 2 A) and was one of the top players in many advanced stats, including CF%, iXG%, and other offensive metrics. With him making the final roster on Monday and being Jack Hughes' running mate for the foreseeable future, is Holtz a Calder Trophy candidate as the league's top rookie?
The Calder Trophy is awarded to the top rookie every year. Last season, it was given to Detroit Red Wings' phenom Mortiz Seider. Seider had 50 points and genuinely played like a top-15 defenseman in the NHL. In recent years, the race has been tighter than ever, as rookies are coming into the league with more development and skill than ever before. This year, it is no different. Let's look at the candidates for this year and see how Holtz stacks up.
Matty Beniers – Center – Seattle Kraken
Seattle Kraken centerman Matty Beniers is many people's Calder Trophy favorite. Coming off a splendid year at the University of Michigan, Beniers took no time to get himself situated in the NHL, scoring three goals and accumulating nine points in only 10 games played at the end of last season. That is a 74-point pace in an 82-game season. Now obviously, no one is expecting Beniers to score 74 points, but 50-60 seems reachable. With new additions in Andre Burakovsky and Devil-Killer Oliver Bjorkstrand, Beniers should be in line for a promising season.
Marco Rossi – Center/Wing – Minnesota Wild
The ninth-overall pick in the 2020 NHL Draft seems to be turning heads this preseason, as he leads the league in scoring with nine points in six games as a 21-year-old. This, coupled with the phenomenal AHL season he had in Iowa, Marco Rossi seems primed for a big role with the Wild. While the Wild have good center depth, Rossi could possibly end up as the 2C for the team with Ryan Hartman as the 3C. Could Rossi make GMs look foolish for passing on him two years ago?
Mason McTavish – Center – Anaheim Ducks
When Mason McTavish was taken third overall last year, some saw it as a slight reach, particularly when draft darling William Eklund was still available. In 2022, the Ducks were proven right as McTavish had a dominant OHL season and World Juniors performance. He was Canada's best forward (arguably better than Bedard) and showed even last year in nine games that he could hang in the NHL. While he is listed as the 3C for the moment, don't be surprised to see him play 2C before the year ends. The only issue with McTavish is the winger depth on the Ducks, as Frank Vatrano, Maxime Comtois, and Jakub Silverburg are probably top-six wingers on the team. However, don't put it past McTavish to excel with anyone. With Trevor Zegras and McTavish, the Ducks could have one of the best 1-2 punches in the league.
Owen Power – Defenseman – Buffalo Sabers
The first-overall pick in the 2021 NHL Draft made his NHL debut last year and impressed in the 8 games he played. After a point-per-game season at Michigan last year, Power seems to be the best rookie defenseman this season. He has great size and offensive instincts, which could lead to plenty of production from the backend. The only question with Power is where he plays this year. Will he play with Dahlin on the first pairing and risk a lefty-lefty pairing or will he play on the second pairing? Buffalo is my favorite dark-horse team to make the playoffs next year, and Power could be a big part of that.
Cole Perfetti – Center/Wing – Winnipeg Jets
Maybe the most creative and offensively gifted player on this list, Cole Perfetti seems like he is going to be a mainstay in the Jets' top six this season. After a stellar OHL career, Perfetti lit up the AHL, scoring 15 points in 17 games last year. Perfetti played 18 games in the NHL last year, so he is barely a rookie by NHL standards. Still, he has the opportunity to play with skilled players like Kyle Connor, Nikoli Ehlers, and Mark Scheifele. Based on the talent around him, Perfetti has a chance to be the best rookie next year.
Alexander Holtz – Winger – New Jersey Devils
Finally, we get to the Devils' side of things. Holtz has looked like a completely different player this season compared to last. He looks faster, stronger, and quicker in his anticipation. Many online were claiming that Holtz is a goalscorer and if he doesn't score, he doesn't have much value to the team. That couldn't be further from the truth. While Holtz hasn't been a very good 5v5 player in his junior years, his play during preseason and training camp suggests that he has at the very least improved in those areas, particularly in his passing and board play. Playing with one of the league's rising superstars in Jack Hughes should help him in his transition to the NHL.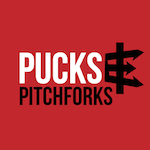 Want your voice heard? Join the Pucks And Pitchforks team!
Write for us!
Closing Thoughts:
Holtz could certainly make it interesting, but he would need some great production and a little luck to win the Calder. With the improved play along the boards and better passing acumen, Holtz in theory should be able to pile up points. For him, it's about being consistent and playing within the system. As stated earlier, Beniers is the favorite here to win it, but players who are not listed such as Jack Quinn, Shane Wright, and William Eklund (if David Quinn allows it) make the race a lot closer. It should be a very fun year for rookies.