New Jersey Devils Are Fine In Net With Vitek Vanecek and Akira Schmid
The New Jersey Devils were eliminated from the playoffs one week ago as of this writing. It's been one week since the dream of a Stanley Cup Championship was still alive. The Devils did not look great against the Carolina Hurricanes, and the goaltending did not help.
Both Vitek Vaneck and Akira Schmid played in four games against the Canes, playing within two minutes of each other (130 for Vanecek, 132 for Schmid). Schmid had the better stats, but they still weren't good. Schmid had a .874 save percentage against Vanecek's .824. It was a rough series, but Schmid was actually better than the numbers show. He still saved close to two goals above average. Despite the numbers, the analytics say Schmid at least alright in net.
Vanecek was an issue throughout the postseason. The Devils starter all season looked out of gas the entire postseason. he was constantly out of position. He looked frantic. This was not what Devils fans had come to expect. Vanecek is the only Devils goalie not named Martin Brodeur to win 30 games. He had dominant stretches throughout the season.
Despite the regular season success, Devils fans are ready to move on to a superstar goaltender. The name that keeps coming up is Connor Hellebuyck. The Winnipeg Jets star says he has no interest in a rebuild, and that has everyone saying he's asking to leave. Ignoring the fact that this is a huge over-exaggeration, the Devils would have to give up a lot for Hellebuyck while also figuring out how much he's worth. He only has one year left on his contract, and he's going to turn 30 this offseason. It's a huge risk that could backfire, putting the Devils in a place where they may waste the previous rebuild.
The Devils are fine in net. Are they great? No, but they are perfectly fine with Vanecek and Schmid taking the net next season. The former showed he could carry the load in the regular season, and Schmid showed he has ice in his veins shutting out the New York Rangers in Game 7.
Tom Fitzgerald has been following a very specific model to try and find the next great goalie. Hellebuyck was a fifth-round pick. Ilya Sorokin was a third-round pick. Igor Shesterkin was a fourth-round pick. That's why the Devils have spent a pick every single year on a goalie under Fitzgerald.
This is clearly Fitzgerald hoping if he keeps rolling the dice, he will eventually hit on a player like Sorokin. Right now, he has Schmid, Nico Daws, Tyler Brennan, Jakub Malek, Cole Brady, and Mackenzie Blackwood as goalies his organization drafted that they have the rights to. Actually, they still have the rights to Gilles Senn as well since he went overseas to play hockey. The hope is one of those players turns into the next Hellebuyck.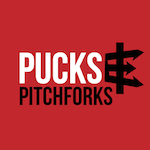 Want your voice heard? Join the Pucks And Pitchforks team!
Write for us!
Schmid is the closest right now. What's been ignored is his playoff performance wasn't the first time Schmid dominated for the Devils. He had a 7.07 goals saved above average, good for 19th in the league. Vanecek was 15th in the league.
If the Devils can make moves while paying its goalie duo less than $5 million per year, that allows them to pay players like Timo Meier and Jesper Bratt while keeping the rest of the team intact. This was Fitzgerald's plan the whole time, and it's finally working. Why would they make a jump for a superstar goalie when it finally seems like they have a possible starter in Schmid?