New Jersey Devils: Ryan McGill Needs to Tighten Devils Leaky Defense
After 12 games, the New Jersey Devils are in a bit of a regression phase defensively. There are learning curves as the team is playing without Ryan Graves (Pittsburgh Penguins) and Damon Severson (Columbus Bluejackets), who both left in the offseason. Tom Fitzgerald understands that Luke Hughes, Kevin Bahl, and the veteran defenders are learning to play without two solid defenders who could hit and block shots.
Here at Pucks & Pitchforks, I've created an analytical measurement combining hits and blocked shots called Sasquatch Score. It's a measure meant to decipher physical toughness. You have Jonas Siegenthaler (37), Kevin Bahl (35), Curtis Lazar (32), and Brendan Smith (28) leading the charge this season.
Importance of Adding Sasquatch Players
One of the reasons why the Sasq Score is important is to intimidate an opponent, add aggression, and suppress shots from the defense unit. Outside the core four players, the current group needs to emulate guys like Radko Gudas and Sammy Blais. The offense needs to play with an edge, treating every game like it's Game 7.
It is a very tough feeling with an organization that has been centered around defense first and superphysical defensemen. Not enough players on this team reflect that identity. Last season Ryan Graves and Damon Severson were able to suppress shots, and bang bodies when they saw players with the puck.
Ryan McGill was largely responsible for the Devils' progression on defense last season. He helped the Golden Knights reach the playoffs earlier in his coaching career. Whatever he did to help box players out and bolster the defense last season needs to be implemented.
Tom Fitzgerald Must Add
A recent from NJ.com's Ryan Novozinsky discussed GM Tom Fitzgerald's thoughts on the defense. He believes it has underperformed sadly, and there might be logic to a future addition. Whether it be a trade or a waiver wire pickup it is possible Tom Fitzgerald makes another savvy move to improve this team.
It is not all on the goaltending to perform. However, it is on the defenders and forwards to prevent teams like the Avalanche from just pouncing past you on rushes. Players like Dougie Hamilton can't abandon their post without knowing where the puck will be because a player like Miles Wood knows nothing but breakaway speed.
It is Ryan McGill's job to implement and enforce the defensive discipline by the players Tom Fitzgerald has assembled. There is far too much talent, skill, and will for this team to be in the basement of the NHL's defensive analytics. This team even considering Nico Hischier and Jack Hughes are injured still had defensive problems.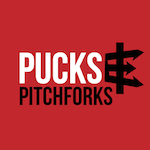 Want your voice heard? Join the Pucks And Pitchforks team!
Write for us!
The Devils Have Not Hit Their Very Best… Yet
This season, the New Jersey Devils have had average goaltending, bad defense, and phenomenal offense. It is a mix of this team going through those growing pains in net and on defense. The offense is not the problem, it's the defensive play, puck management, and the lack of Sasquatches or plays not playing with an edge enough.
If Tom Fitzgerald can add a veteran defenseman and a veteran winger who can play defense, forecheck with an edge, and be able to show teams not to get comfortable playing against the New Jersey Devils, it's best for everyone. Another thing is once the defensive mindset gets set in the goaltending can officially start to settle in, to an extent.
When the Devils finally get the goaltending to not overperform in front of a spotty defense then it would be easier to judge how the goaltending can perform. It would be a great thing to see Tom Fitzgerald improve these key areas that would help the Devils win more games.