New Jersey Devils: John Quenneville Not Making Team With His Play
Many players have stepped up this preseason for the New Jersey Devils, helping them get to a 3-0-1 record. One of those players, John Quenneville, has not stepped up like the rest.
The New Jersey Devils are going into the start of the season with a lot of positives. Cory Schneider has been playing well, given what happened to him last season. First-overall pick Nico Hischier shows he belongs in the NHL despite still being a teenager. The team is actually winning faceoffs without Travis Zajac in the lineup.
There are much more positives than negatives, but some players who fans expected to make the jump into an NHL spot haven't played up to those expectations. One of those players is John Quenneville.
Roster cuts are looming over this team, and many players are playing as well as they can to keep themselves on this roster. Jesper Bratt has been outstanding in his preseason performance. He answered a two-goal performance against the Montreal Canadiens with a very good showing against the rival New York Rangers. He's been the surprise of the preseason, and he's earned a spot to at least start the season in New Jersey.
Drew Stafford and Pavel Zacha have great chemistry, which is somewhere Quenneville could have tried to sneak in.
Jimmy Hayes has even looked good after a really bad first game. He may not make this team, but I would be hesitant to say the Devils should cut him completely in favor of giving Quenneville a spot on the Opening Night roster.
Players like Stefan Noesen, Nick Lappin and Joseph Blandisi also showed signs of a change-of-pace ability to their games. This is what the Devils have been missing since the end of the CBGB line that helped them get to the Stanley Cup.
Don't take this the wrong way. Quenneville hasn't been atrocious in this preseason. He did have an assist against the Rangers in the team's 2-1 win. There are times where he looks NHL ready, but his situation doesn't do him any favors. While other young players have to go down to Juniors when the Devils decide to cut them, Quenneville can go down to the AHL. That means they can call him up when he's ready.
Because of Quenneville's situation, he really needed to bring more to the table this offseason. He needed to clearly stand out if he wanted to make this team out of the gate. His underwhelming performance will force the Devils to look elsewhere to start the season.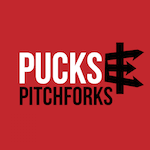 Apply to Pucks and Pitchforks.
Start your application process by filling out the fields below