New Jersey Devils Show Offensive Potential in PEI
The New Jersey Devils faced off with the Ottawa Senators last night in O'Leary, Prince Edward Island. They brought a team that likely strongly resembled a roster we'll see on Opening Night.
Coach John Hynes made some changes across the lineup Monday night, and the New Jersey Devils showed just how good they can be offensively this year. It's still preseason, but I would imagine the top 9 last night will strongly resemble the top 9 we'll see roll out on Opening Night.
https://twitter.com/njdevils/status/912678259086757888
The Devils scored early and often, tallying eight goals and ending up leaving PEI with an 8-1 win over Ottawa. The second line of Marcus Johansson, Nico Hischier, and Drew Stafford opened the scoring when Johansson intercepted a pass and put it past Mike Condon just over a minute into the first period.
The top six would go on to add four more goals in the first period. Pavel Zacha, Taylor Hall, and Kyle Palmieri would add two power play goals Mojo-Nico-Stafford would add two more, with Steven Santini getting an assist too.
That wasn't the end of the scoring as John Quenneville would net two seemingly identical powerplay goals. The Mojo-Nico-Stafford line would add another goal in the 3rd period. Thomas Chabot scored on an Ottawa powerplay to net the Senators only goal.
New Look Top Nine
The Devils dropped Adam Henrique to the 3rd line, where he centered Jesper Bratt and John Quenneville. Moving Henrique to the 3rd line allowed the Devils to roll three offensively talented lines.
Despite Nico Hischier's stellar performance with Hall and Palmieri in their last game Coach Hynes said he would give Zacha a chance and he did. Pavel Zacha is showing he may have a breakout year. He looks much more comfortable on the ice and has performed well with whoever he's played with.
Zacha netted two powerplay goals and added an assist on Quenneville's powerplay goal in the 3rd period. Hall and Palmieri had two assists each as well.
Marcus Johansson added 1 goal and 3 assists, Hischier had 1 goal and 1 assist, and Stafford added 2 goals and an assist. John Quenneville netted two goals and Jesper Bratt and Steven Santini each had assists.
Jesper Bratt seemingly cemented his name in the opening night roster while Quenneville may have earned himself a spot as well. The Devils appeared to roll out their expected top 9 in PEI while holding 4th line tryouts in Brooklyn at the Barclays against the Islanders.
The Best Defense is a Good Offense
Cory Schneider played the whole game, only facing 13 shots, and the only goal that got by him was an absolute cannon of a shot when the Devils were shorthanded. Last night was truly an exhibition of the potential the Devils have.
Obviously the Devils aren't going to score 8 goals a game but they really showed how a good offense can hide a mediocre defense. The offense really controlled the game taking a ton of pressure off the defense.
Young defensemen Mirco Mueller, Steven Santini, and Will Butcher all looked good. It's looking more likely that all three will start the year in New Jersey.
Coach Hynes has said he wants to have an extremely aggressive team and we saw last night what that can look like for this years New Jersey Devils.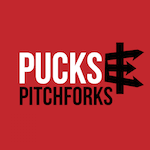 Apply to Pucks and Pitchforks.
Start your application process by filling out the fields below