New Jersey Devils: Mirco Mueller Clearly Needed Change Of Scenery
The first move the New Jersey Devils did to address the defense was trading for former San Jose Sharks first-round pick Mirco Mueller. While the move wasn't exciting at first, Mueller has played extremely well.
Peter DeBoer had an interesting tenure with the New Jersey Devils. He had one of the most fun seasons in the team's history, bringing an underdog group all the way to the Stanley Cup Finals back in 2012. One thing was clear when he was head coach; he wasn't great with young defensemen.
There were defensive prospects with bright futures like Adam Larsson, Jon Merrill and Eric Gelinas. Unfortunately, all three of them are on different teams after a short leash originally by DeBoer. While that hurt the Devils while he was coaching in Jersey, it could end up working out for the Devils now.
DeBoer seemed to have a short leash with another defensive prospect while with the San Jose Sharks. That led the Devils to trading for Mirco Mueller this offseason for a second and third round draft pick.
Mueller didn't do much prior to this season. After spending 39 games with the Sharks back in 2014-15, he spent the majority of the past two seasons in the AHL. He never really showed the offensive potential that made him a first-round pick in the first place.
Mueller only played two games this preseason, but scored in both of them. He showed his huge shot from the point with his goal in the first game against the Washington Capitals.
That puck had eyes as it went off the post and past the goalie. Sure, it's the preseason, but that shot gets past most goalies in the NHL today.
The defense has played well above what anyone expected coming into the preseason. Will Butcher continues to show his potential as the head of a powerplay. Steve Santini is forcing the Devils to make hard roster decisions. Even Dalton Prout, who nobody thought had much left in the tank, has played out of his mind so far. This could make it harder for Mueller to make the team, but his play dictated he deserves at least a shot.
At the end of the day, Mueller won't reach his potential unless he can stay consistent. It's great to see him play well in the preseason, but the regular season is where he will make his money. All he needs from head coach John Hynes is a shot.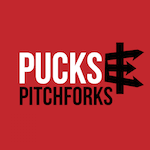 Apply to Pucks and Pitchforks.
Start your application process by filling out the fields below