New Jersey Devils Have A Ben Lovejoy Problem
There are many positives coming from the New Jersey Devils offseason. One of those definitely wasn't defenseman Ben Lovejoy. The problem is, there is nowhere to put him.
The New Jersey Devils came into this preseason with major problems on the blue line. The team's defense was awful last year, and all they did to fix it was trade for a failed first-round pick and sign a college free agent.
The thing is, this defense doesn't look half bad. That is, outside of Ben Lovejoy.
Will Butcher has some defensive lapses, but his command of the powerplay makes him a true asset. Plus, he has plenty of time to fix those mistakes. Damon Severson looks ready to become the go-to guy on the blue line. Steve Santini showed he has what it takes to make an NHL lineup. Mirco Mueller was very good on both ends of the ice, scoring two goals in two games. Heck, even Dalton Prout has looked amazing at times this preseason.
Add in Andy Greene, who looks like he's got some extra kick in his step, and John Moore, that makes six defensemen who you could actually win with.
Ben Lovejoy, on the other hand, has been just awful.
Every stat you look at, Lovejoy has been bad. He looks lost on defense, gets caught in his skates when someone is passing him and leaves his goaltender high and dry way too often.
The issue is this, there's no way you can have a lineup without Ben Lovejoy. Well, we can, John Hynes can't. In fact, the team is even thinking out carrying eight defensemen because of the situation it's in. This is a huge problem.
The front office would never allow Hynes to do anything to Lovejoy. The best possible solution is to send him to the AHL. There, he could reinvigorate his game and the Devils could play the hot hands. Unfortunately, Lovejoy came at a time the Devils couldn't sign anyone. Therefore, the team feels like they owe him something. Also, he's a veteran. You don't want to treat a vet like that. It ends up making other veterans remember how one was treated in prior situations.
I'm not sure how to rectify this. The Devils find themselves in a no-win situation. They might have to carry eight defensemen to start the season, just to avoid future ramifications.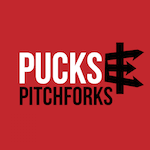 Apply to Pucks and Pitchforks.
Start your application process by filling out the fields below